You are invited to the Leeds Bereavement Forum's virtual Annual General Meeting.
Date: Wednesday 01 December 2021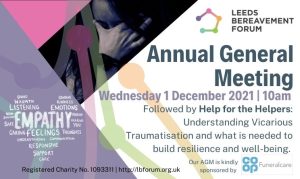 Venue: Via Zoom
Time: 10am – 11.30am
Following the AGM business, guests will be joined by Mark A. Stancombe and Lisa Nel from Vicarious Traumatisation.
Help for the Helpers: Understanding Vicarious Traumatisation and what is needed to build resilience and wellbeing.
Understanding Vicarious Traumatisation (VT) is relevant to anyone who supports other people who are suffering, regardless of whether the suffering is physical, emotional or both. Mark and Lisa will offer a brief introduction to VT, which is a phenomenon particularly impacting people who help others who are suffering or traumatised. The focus of this session will be to understand VT and how to notice and mitigate its impact through research-based self-care and resilience-building. All welcome.
Booking
To book your free place please visit Eventbrite.