Purple Patch Arts are holding a Meet the Employer online event on to give you an opportunity to find out more about the organisation, meet some of the team and join in with some creative learning activities to see what they do.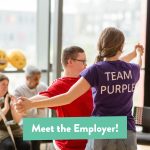 Date: 01 December 2021
Time: 12pm – 1pm
Venue: Online via Zoom
Purple Patch Arts are currently looking for new people to work as Programme Supports on their Lifelong Learning Programmes from January 2022. Visit their website https://purplepatcharts.org/meet-the-employer/ for more details and to book your place.