Creative Spaces: Leeds presents Covid-19, BLM and Transformation: The lived experience in Leeds.
Be part of a creative and collaborative systems approach to reduce ethnic inequalities in severe mental illness and improve experiences and outcomes.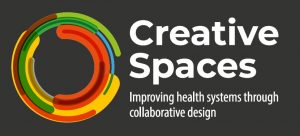 Date: Tuesday 28 September 2021
Time: 10.30am – 12.30pm
Platform: Zoom
Tickets: Click here to book
You are invited to be part of a creatively co-designed event on the impact of Covid-19 and Black Lives Matter on black and minoritised people with lived experience of severe mental illness and service user allyship.
Through photography, film, audio and poetry, alongside guest panellists and contributors, we will explore lived experience narratives of BLM and the pandemic, alternative pathways to being sectioned, what systems leaders can do better and what collaborating for change really looks like.
The event will be BSL-signed.
PROGRAMME
10:30-10:35
Spoken Word Performance: Black Ops Poetry, Founder, Let's Talk: Queer People of Colour
10:35-10:40
Welcome | Why are we here? – Joy Francis, Co-Director, Synergi Collaborative Centre
10:40-10:55
The impact of BLM and Covid-19
An audio/visual compilation of creative responses to Covid-19, BLM and the lockdowns, introduced by Delvina Saunders, Mental Health Ethnic Inequalities Lead (Adults), Leeds City Council Public Health
Contributors (more to be confirmed): Getaway Girls | Abdullah Adekola | Mary Seacole Hostel
10:55-11:15
Thriving or surviving: The reality of mental health detention
A filmed testimony, introduced by Wendy Tangen, Clinical Services, Inclusion Lead, LYPFT and Aya Khalid
11:15-11:20
Comfort break
11:20-11:25
Introduction to part two: Joy Francis
11:25-11:50
Panel Discussion
Ethnic inequalities, over-representation and mental health: What needs to change?
Moderator: Tessa Francis, Voluntary Action Leeds
Panellists: Andy Weir, Deputy COO, LYPFT | Sarah Erskine, Leeds, Head of Public Health (Mental Health) Leeds City Council | Roz Brown, Service Delivery Manager (Mental Health), Leeds City Council , Leeds City Council | Pip Goff, Volition Director, Forum Central
11:50-12:15
What Next? Working together to make a difference
A conversation with Abdullah Adekola, Project Lead, The Young Black Minds Project, creative writer and poet, Ansa E Ahmed, CEO, Hope Bereavement Support, and Delvina Saunders
12:15-12.25
Closing performance
A Poetic Reflection of the event: Michelle Scally Clarke, writer, poet and performer
12:25 – 12:30
Next steps and CLOSE
Creative Spaces: Leeds is a collaboration between the Synergi Collaborative Centre, Leeds City Council, Leeds and York Partnership NHS Foundation Trust, Forum Central, Inspire North and a range of statutory, voluntary and NGO partners.
Part of a national ecosystem covering Birmingham, Greater Manchester and London, Creative Spaces: Leeds facilitates solution-focused dialogue, collaborations, and co-designed approaches, to enable health systems interventions to prevent or reduce ethnic inequalities and multiple disadvantages experienced by people with severe mental illnesses.