Barca-Leeds is committed to building the confidence, hope, resilience and ambition of young people to help them get #BackOnTrack.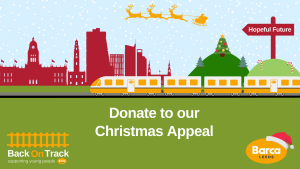 The impact of the pandemic has had an overwhelming effect on the futures of young people across the city of Leeds. The loneliness of lockdown and the stresses of school and family life has adversely affected the mental well-being and confidence of many young people during these troubled times.
Please support Barca-Leeds this Christmas by sharing or donating to the Back on Track Christmas appeal to ensure young people in Leeds feel hopeful about life after the pandemic. You will be helping to rebuild their self-esteem and guide them back to into education, training or a job.