Across West Yorkshire we support each other and work collaboratively to deliver personalised health and care which meets the diverse needs of the populations we serve. Our ambition is to create social movement for change by embedding and spreading personalised care through a network and provide the forum to share learning and negotiate solutions to any problems or conflicts in order to embed and spread personalised.
Our Connecting Communities Network was developed to bring together health and care professionals, including volunteers from across the system to actively promote and embed personalised care approaches in everything we do. The network creates a safe space for sharing with and learning from others, and we expect members to be respectful of each other, our differences, and opinions, and act with honesty and integrity.
The next connecting communities meeting (Thursday 17th March) will be focused on how personalised care can better support mental health, looking at how we can better support the populations we serve through holistic models of care.
Please see below for the agenda and meeting link.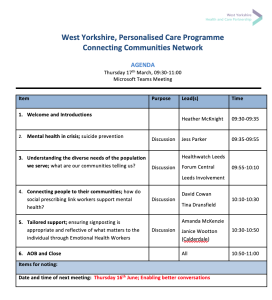 Microsoft Teams meeting
Join on your computer or mobile app
Click here to join the meeting
Or call in (audio only)
+44 20 3321 5208,,363167735#   United Kingdom, London
Phone Conference ID: 363 167 735#