The CQC has published their final report in their review of restraint, seclusion and segregation for autistic people, and people with a learning disability and/or mental health condition.
This report describes the CQC's findings about the experiences of care for children, young people and adults who are subject to restrictive practices, and will help inform local strategy and policy.
Read the blog from the CQC below which discusses their findings, or view the full report here.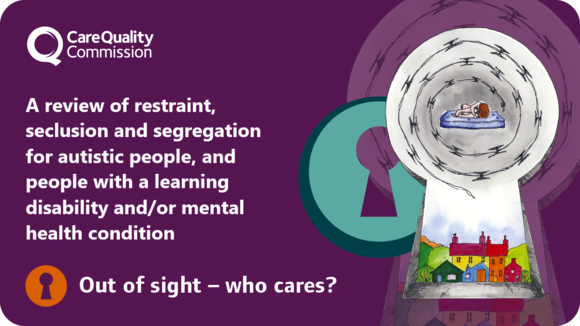 A blog from 
Dr Kevin Cleary, Deputy Chief Inspector for Mental Health, Debbie Ivanova, Deputy Chief Inspector for Social Care
In this new blog Kevin Cleary and Debbie Ivanova discuss the findings from our final report and the implications for human rights.
'We found that seeing things from a human rights perspective can help reduce the use of restraint significantly'
Background to the work
CQC and the wider system has been concerned about the use of restraint in mental health and social care settings for some time. At the end of 2018, Matt Hancock, Secretary of State for Health and Social Care, asked us to look at the use of restrictive interventions.
The review has looked at how places providing inpatient and residential care for people with mental health problems, a learning disability, and/or autism use these interventions.
Restrictive interventions are when someone receiving care is restrained or put in prolonged seclusion or segregation.
We started work on this in December 2018, published an interim report in May 2019, and have now published the final report including our recommendations about the use of restrictive practices.
Throughout the review we undertook 56 visits to hospitals, 27 visits to social care services, held two focus groups with Advonet and Change, and five Expert Advisory Group meetings.
What we found
For people with a learning disability, autistic people and/or a mental health condition that we visited we found:
The environment of mental health hospitals (that also cared for people with a learning disability and autistic people) was often not therapeutic
People had little or no access to outside space, were living in unclean accommodation and did not have access to basic things like toilet paper or cultery
Restrictive practices is a human rights issue and should be viewed as such
That it could be very frightening for people to be restrained, which could lead to them resisting and injuring staff
Providers did not always recognise how distressing the use of restraint and other restrictive practices could be for people
It is possible for people with the most complex needs to lead a good quality of life.
'This review has shown that for some people who need complex care, the system lets them down. It is often seen as too difficult to get it right – they fall through the gaps.'
A summary of our recommendations
The full recommendations can be found in the report, however we want to see tangible progress on four key areas:
1
People with a learning disability and/or autistic people who may also have a mental health condition should be supported to live in their communities. This means prompt diagnosis, local support services and effective crisis intervention.
2
People who are being cared for in hospital in the meantime must receive high-quality, person-centred, specialised care in small units. This means the right staff who are trained to support their needs supporting them along a journey to leave hospital.
3
There must be renewed attempts to reduce restrictive practice by all health and social care providers, commissioners and others. We have seen too many examples of inappropriate restrictions that could have been avoided. We know in absolute emergencies this may be necessary, but we want to be clear – it should not be seen as a way to care for someone.
4
There must be increased oversight and accountability for people with a learning disability, and/or autistic people who may also have a mental health problem. There must be a single point of accountability to oversee progress in this policy area.
'People should be cared for in their communities close to home, that's why we are calling for increased community capacity across health, social care and education.'