We stand in solidarity with and remember sex workers affected by violence as part of the annual worldwide Campaign around Ending Violence Against Sex Workers.
From 01 Dec, Basis Yorkshire is running 17 Days of Action in order to raise awareness about the International Day to End Violence Against Sex Workers on 17 December and get as many people as possible to join them in pledging support and solidarity for sex workers.
Make your pledge to stand against violence towards sex workers.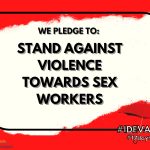 To get involved, print a pledge using the templates below and take a picture with your pledge (if you don't feel comfortable having your face in the photo you can cover it with the pledge sign), then send the picture by email to [email protected].
Pledge Templates 1 ¦ Pledge Templates 2
You can also share the picture on social media to help spread the word about #IDEVASW, don't forget to tag Basis if you do!
Facebook: @Basisyorkshire1  | Instagram: @Basisyorkshire | Twitter: @Basissexwork
If you'd like to spread the word about this campaign and help get more people involved feel free to share our information pack attached below that has information on what the campaigns all about and how to get involved.
Information Pack and Pledge Templates
For more info on events being organised for this year's campaign, please visit this webpage.
Background information
The International Day to End Violence Against Sex Workers was originally developed by the founder of the Sex Workers Outreach Project USA to make people aware of the "epidemic of violence" sex workers face. It began as a memorial for the victims of the Green River Killer in Seattle who murdered at least 71 women between 1982-1998, most of whom were sex workers. Since then it has grown to unite sex workers rights organisations and charities around the word to raise awareness of Violence Against Sex workers with the aim to address stigma and discrimination which can so often lead to violence. It's also an important opportunity to remember the lives that have been lost due to violence towards sex workers and show solidarity and support to those who have been affected by violence.