Loop update: The Third Sector information you need, when you need it – an impossible dream?
Imagine if …
All the information about third sector organisations in Leeds (who they are, where they are, what they do) was held in one online, easily searchable, library and was available in different ways to the people that want it;
Publicly searchable directories like Doing Good Leeds and Leeds Directory could be 'driven' by this single online library. They'd have more complete information making it easier for any member of the public to find the organisation or service they need;
Organisations (whether it's the NHS or the local community group) would be able to access the library to complete mapping exercises; like an exercise to knowing all the organisations in one neighbourhood that they could work with;
It'd be easier to plug third sector information into the larger directories run by bigger public sector organisations, like the NHS.
This idea seems so simple and so necessary. In fact, it could be the solution to some of the challenges we have as a sector and as a public/third sector system around sharing information.
Unfortunately, it's fiendishly hard to make it happen. After all, as a minimum you'd have to:
build a complex database that stores the information in a way that people could use;
agree with a wide range of partners (including 3500 third sector organisations) what information to store;
get as many third sector organisations in Leeds as possible to keep it up to date and/or get it to talk to the databases that already hold some of that information;
find ways for it to drive the information on other organisation's websites; and
sort out all the data sharing rules that enable people to use it to it's potential.
That's where Loop comes in!
About Loop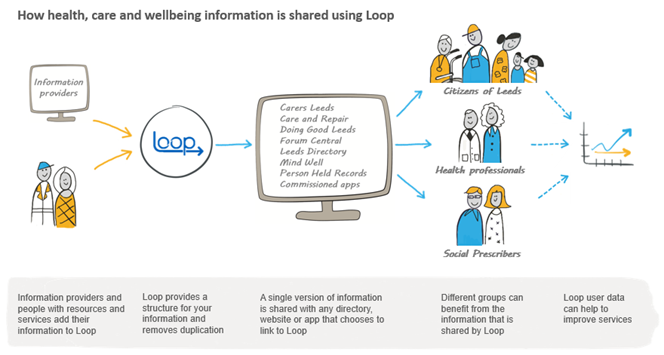 Loop is essentially a central shared database to store information, which can be kept up to date by multiple people. The information Loop holds can be shown  on multiple websites or maps.
In short – build it, and get it right and Loop delivers the dream (or something close to it). We know that the dream is possible – because it's been achieved in other places such as Connected Kingston and Hounslow Connect – (although these platforms are slightly different to the one we want to achieve in Leeds because they have a single website to access the information, rather than driving lots of different organisation's directories).
Loop has been in development since 2018, with some of the key public sector and third sector organisations (including Leeds City Council, the Health Service in Leeds, Carers Leeds, Forum Central, Leeds Directory, Leeds Community Foundation, Linking Leeds, Mindwell and Voluntary Action Leeds) coming together to push the project forward. Forum Central have been leading the work for the third sector.
To date, Loop has made some fantastic progress, but right now it faces some challenges get over the finish line –  there's still some work to do to sort out the technical side, it needs a wider group of organisations to know about it and importantly, after Covid, the project needs to secure funding to be sustainable.
The story of Loop so far
Software developer, MHabitat began work on the concept in 2018, initially called g
Several key organisations, including some from the third sector (VAL, FC, Carers Leeds, LCF, Mindwell, Linking Leeds, Leeds Directory) were involved in the development at proof of concept phase in 2019-2020, consultations and workshops were held.
Further funding was secured for a 12 month adoption phase, 2020-2021.
Forum Central trialled a Loop integration on their website early in the pandemic to give accurate information about changes to third sector services. VAL has integrated it's organisation directory (CiviCRM) with Loop.
The live Loop platform is only the back of house admin interface (the online library shelves), there is not yet a front end integration where information can be displayed and searched (a librarian to help you find the information you need).
January 2022 funding for the project ends unless the project is sustained further
Where we are now
At it's September meeting TSL Leadership Group had a conversation about trying to understand the different pieces of work that partners were doing to map third sector resources and their impact. As well as agreeing that partners need to work more closely together to ensure that these mapping exercises don't overlap too much, we focused in on Loop as the way to make it easier for everyone to do this work.
Now is a critical time for Loop as the end of its development funding is approaching just at a time when some important other data gathering work is happening:
Leeds Directory may be being redeveloped by Leeds City Council.
The MindWell website has been recently migrated onto a better platform and is currently working hard to improve its directory.
Third sector access to patient records is being considered at West Yorkshire level (the Leeds Care Record and Helm are paused but in the pipeline).
The NHS Directory of Services is being used nationally in urgent and professional healthcare settings. Plans to merge this with NHS England are ongoing.
We think that if the third sector misses the opportunity to finish the work on Loop then these big projects will be less effective, and it will remain difficult for anyone to navigate the complex web of organisations that make up the third sector in Leeds.
What action is being taken
Third Sector Leeds thinks the work on Loop is too important for the whole sector to let go – so they're supporting Forum Central, Voluntary Action Leeds and others to make the case to funders to keep it going.
Forum Central are using some funding from 'Harnessing Power of Change' (health service funding for developing the third sector) for a project to understand more about how Loop will work for a wider range of organisation. Third Sector Leeds plans to work closely with Forum Central to understand the learning from this project.
We need the whole sector to get behind the concept of Loop – and, assuming that more funding is found, to commit to engaging with conversation about what data should be held and how it can be kept up to date.
Your views on this work are very welcomed. For an informal chat please contact Jenny on 07472 834 436 or email [email protected] or Rich [email protected]