Mick Ward is retiring in June after 46 years at Leeds City Council, 42 of those in Adult Social Care, including several years working jointly for the NHS in Leeds.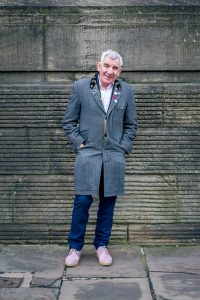 "I first met Mick 41 years ago when I arrived in Leeds to work with Leeds Social Services (as it was then known). I remember his charismatic dress and hair style way back then – it's good to know that some things do not change over time. Mick has been a great supporter of the third sector over the years and has helped the sector develop strong and positive relationships with adult both social care and health. He has encouraged and supported the sector to grow and develop and been instrumental in helping to ensure continued funding even in these very difficult times.  Although there are many examples of this, 2 particular points stand out for me. Firstly, he supported the development of the Forum Central Contract and secondly he helped Leeds Older People's Forum to be nominated to receive the 6 years funding from Big Lottery to create the Time to Shine programme. I am sure Mick will enjoy his retirement in his own inimitable way, and we wish him all our best wishes."
– Bill Rollinson, Chair of Forum Central Partnership Board and Leeds Older People's Forum.
Carmel Langstaff has been appointed to the post of Chief Officer for Transformation and Innovation on the retirement of Mick. Originally from Leeds, Carmel began her career at Lewisham as the Principal Arts Officer. Carmel progressed beyond her arts specialism to take on the lead role for the third sector within the council.  She was instrumental in developing their work with the third sector around preventative services including the award winning Meet Me at the Albany project for older adults and Community Connections bringing health and social care, third sector and local communities together to provide community solutions for vulnerable adults.  She has also worked within the council's policy team and with the CCG where she has led on specific transformation projects such as those around enablement and multi -disciplinary working across primary care, social care and community health services. Carmel is looking forward to taking up her new role on June 8th, as well as a move to Leeds.
Rather than a retirement party/gift Mick is suggesting donations to PAFRAS which supports asylum seekers who are destitute or at risk of destitution through crisis intervention, immigration advice; casework; advocacy and integrated mental health support including for young unaccompanied asylum seekers. Along with so many of you, PAFRAS has rapidly changed the way they operate in response to Covid-19, in order to meet the needs of the most marginalized and isolated people in Leeds. They are distributing food, toiletries, mobile phone top-up, radios and other useful items as well as continuing to offer telephone case work and mental health support. You can donate here.