Dance into the weekend with Rachel & Emma at St Chad's, Headingley. Attend face to face or via Zoom!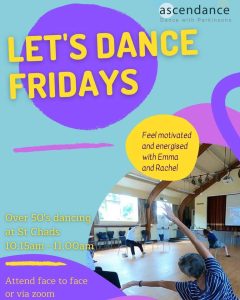 Join Ascendance at this friendly group with fun dance moves from around the world to feel motivated and energised.
This new class is designed for older adults who want to stay active for longer. They are particularly good for people with mobility restrictions or movement disorders at any age. The exercises are specifically designed so that they can be carried out seated or standing with low to high intensity adaptations
No dance experience necessary. Members who attend regularly reported that they felt significant improvements to their mental and physical health.
Newcomers always welcome – get in touch for your FREE TRIAL at [email protected] or call 07933 685 359.