Staying Mentally Well
By Sean Tunnicliffe, Forum Central Communications Officer

We are currently in the middle of Mental Health Awareness Week, which this year feels more important than ever in light of the COVID-19 pandemic, which has seen a rise in people experiencing poor mental wellbeing, many of whom are experiencing this for the first time.
A recent survey* reported that 35 percent of those surveyed said that they are struggling with their mental health as a result of the COVID-19 pandemic and 12 percent of those said they had never suffered from mental health difficulties before now. From this the survey deduced that up to 23 million people may be experiencing poor mental wellbeing currently.
Our members are telling us that many of the people they support are experiencing low-level wellbeing and mental health impacts as a result of the lockdown, and the impact of social isolation, social anxieties and financial uncertainty, among other issues.
With so many more people experiencing low mood for the first time it's important for them to know that health and wellbeing support from charities and community organisations (as well as the NHS) is out there. There are also self-help resources such as those available online through MindWell, the Leeds Mental Wellbeing Service and Every Mind Matters.
There is also evidence that the most socially disadvantaged in society are being adversely affected by COVID-19 and that people who face the greatest disadvantages in life also face the greatest risk to their mental health. The Mental Health Foundation has recently produced a report on this issue.
Be the milkman of human kindness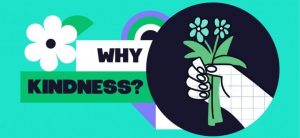 To mark Mental Health Awareness Week, MindWell have launched a Week of Kindness,  and produced a whole host of resources including a kindness planner which gives information on how to be kind to others, and to yourself. If you need other ideas on how to deliver acts of kindness then Mentally Healthy Leeds has produced a flyer with some ideas on it.
The theme for this year's Mental Health Awareness Week is kindness and people are being encouraged to be kind to others, which is a wonderful idea – but remember it's also important to be kind to yourself. 
Stigma
Anti-stigma messaging has also never been more important, people need to know that it's OK to not be OK and that there's no shame in seeking help and support from services and from family and friends if possible. I know that this is often not easy and I myself have struggled to do it when my mental health has been bad, but we must keep encouraging people to get the help they need and continue to work to remove the stigma which is still experienced by some.
Mentally Healthy Leeds
I recently spoke with Darren De Souza who is the Community Health development Manager for Mentally Healthy Leeds to see how things are for the people who have the task of delivering support in these difficult times.  
He told me about conversations he's had with some of their Anti Stigma Champions about how they are feeling and coping and how COVID-19 and the lockdown period is impacting on their lives and mental wellbeing. Some talk about managing and coping, but also about the things that lift them and help them to see some light at the end of the tunnel. 
Darren recently spoke to a volunteer who told him that she had been having a hard time with concerns about COVID and how not being able to volunteer has had a negative impact on her health. She has managed to stay in contact with people by phone and gets support from Mentally Healthy Leeds in the form of one-to-one support from a counsellor. She is now feeling much better and is looking forward to volunteering with them as soon as it is possible.
Darren also gave me an example of someone who isn't doing so well and how Mentally Healthy Leeds is trying to support them:
"I am feeling terrible, I haven't spoken with anyone for several weeks.  Every time I try to talk, I just get upset. I feel like I have no-one and feel useless. I am just not coping" 
It's not easy to put something like this into this blog but as Darren told me "this is what is going on for them". This person has since been referred on to the Wellbean Hope in a Crisis Café for intensive support which they have agreed to take up.
Into the future
One day the pandemic will be over, and organisations and people are already starting to think about how they plan for what happens when it is. In terms of demand and capacity, it's all still a bit of an unknown, but there is data emerging which will help to plan how services respond to this in future, and, as ever, we are working through Forum Central to support our members and partners to work together to deliver joined up, person-centred support for people in Leeds, whatever that might look like.
There is still a lot of uncertainty but there is also resilience, Leeds has responded incredibly well during this pandemic and no doubt will respond equally well post COVID-19 thanks in no small part due to the many third sector organisations providing mental health support – plus, we'll be able to get a decent haircut.
________________________________
*Covid-19 affects rise in mental health problems in the UK: *https://www.itij.com/latest/news/covid-19-affects-rise-mental-health-problems-uk