Tackling Coronavirus
Episode 1: "We will come out of it, but things will be different"
By Sean Tunnicliffe, Communications Officer, Forum Central
This is the first in what will be a series of blog posts where I talk to key workers from local third sector organisations about how the Coronavirus outbreak has impacted upon them as people, their organisation, their colleagues and the people they support.  The blogs will also look at how organisations have adapted the way they work to meet this unprecedented situation we all find ourselves in.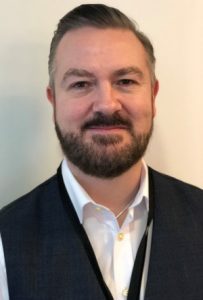 We are kicking the series off with Rob Kelly, Service Manager for Scope's Helpline. Rob started at Scope just over a year ago and before that he worked for Stepchange as Operations manager. He's had a varied career from commercial marketing manager for EMI records, to a Mortgage adviser in Bristol, to providing admin support on a telephone dating line!
"Helpline Manager is a very exciting role and I lead a team of 20 advisers and team managers to ensure that our knowledge is kept up to date and we are available when our customers need us. As a pan-disability charity helpline we take all kinds of queries from helping with benefit applications to what to do if you post your wallet in one of our clothes collection stations!!"
Handling the onrush
Rob told me that Scope had a massive spike in calls during the first two weeks of the crisis. Whereas normally the majority of calls Scope receive are from people asking for advice about benefits the vast majority of the calls in this period were from people concerned about losing income or access to food and other essentials. People calling were worried about how they were going to manage.
Scope were receiving 50-60 calls a week during this period from people worried about social care as well as calls from people in care homes who were worried about their situation and the lack of PPE.
Scope also received several calls from people with Cerebral Palsy (CP) as people with this condition had been put in the high-risk category and callers were worried about what this meant and wanted more clarity as they found the official guidance and advice confusing. Rob explained that the reason they were put in this category was not due to the CP itself but rather because some people with the condition have respiratory issues and this was what had caused the uncertainty.
Information
We spoke about the deluge of information at the start of the outbreak and the need to make sense of it in order to make easier to digest and help people find the right information. I had personally found it overwhelming as I had been on annual leave the first week of lockdown and came back to over 300 emails! Rob said that Scope had put a lot of effort into getting relevant information on their website including a dedicated Coronavirus portal so that their customers could find the information they needed quickly.
There was a lot of concerns at the start of lockdown from customers worried about care workers not being able to do home visits. Many of Scope's customers rely on home visits with some needing more than one visit a day depending on their care needs. Customers were also unclear about whether carers would be able to come to their homes and worried about what would happen to them if they couldn't. This led to fears about becoming cut off from family and becoming socially isolated.
Rob said that things are slowly calming down and over the past couple of weeks calls (and emails) have started getting back to pre-lockdown levels.
Meeting new challenges
Scope have had to adapt to the restrictions caused by the lockdown and social distancing, offering telephone and skype calls for support and advice to maintain contact with clients and colleagues with their team.
Another method has been the introduction of online sessions, which Rob told me have gone well and had the added bonus of helping Scope to reach people 'face-to-face' who they hadn't been able to previously due to customers limited mobility.
Scope are also running online workshops which have been very successful and received great feedback. Subjects covered so far include budgeting for inclusion and supporting positive behavior at home. You can find more about these on the Scope Activities Twitter page: @ActivitiesLeeds.
Positive partnerships
For Rob personally, one big positive to come out of the coronavirus outbreak is the way Scope has been able to form relationships with other organisations and he spoke to me about one example of this.
Since the outbreak Scope have seen a rise in customers contacting them with Mental Health worries, often due to increased social isolation and they have worked in partnership with Mindwell using some of their resources to help support customers who were struggling with their mental health.
Rob said he hopes that we keep a lot of the lessons we've learned when we come through this adding that he wants to take what Scope have learnt and use it to influence government.
Counting the cost
Many charities rely on public funding and donations and Scope is no exception to this.  A particularly worrying aspect of Coronavirus has been a drop in donations as well as cancelled subscriptions to a scheme called Mindful Monsters. Scope also had to close all their charity stores and have seen the loss of other fundraising opportunities such as the London Marathon.  All these things together have seen Scope lose a massive 60% of their income.
Rob said that it's hard to know when fundraising activities will be able to start again as it seems likely that mass gatherings won't happen for some time to come and although there is a government bail-out for charities, this won't cover lost income.
"We will come out of it, but things will be different"
Rob spoke about staff uncertainty saying that Scope have had to furlough 70% of their staff and currently only have front-line workers still working and there's no indication of when staff will be able to return or when they will be able to re-open their office. People are now starting to wonder about what's going to happen when lockdown restrictions start to be lifted and what life and work will be like post coronavirus.
This uncertainty is a big problem as it prevents them from making concrete plans. For Scope, as with many charities, this is likely to have long-term effects such as how they engage with their customers in the future.
Rob ended on a positive note telling me that whatever happens they will continue with face-to-face sessions as these are so important to customers.
Information and advice on all these concerns are on the Corinavirus Hub on the Scope website.