Tackling Coronavirus
Episode 2: Supporting people with sensory loss during COVID-19
By Sean Tunnicliffe, Communications Officer, Forum Central
This the latest in a series of blog posts where I talk to key workers from local third sector organisations about how the Coronavirus outbreak has impacted upon them as people, their organisation, their colleagues and the people they support.  We will also look at how organisations have adapted the way they work to meet this unprecedented situation we find ourselves in.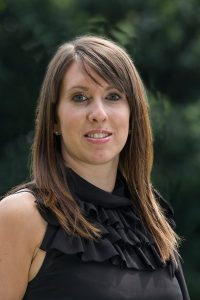 For this episode I met (via Zoom) with Naomi Dainty, Marketing Manager, Deafblind UK
I have been the marketing manager at Deafblind UK for the past three years and I love my job! My team and I are responsible for letting potential beneficiaries and supporters know about who we are and what we do. This is a key part of the organisation's five-year strategy, so it's a really exciting time! 
This is my first role in a non-profit and it's a big step away from the commercial world that I have come from. It gives me a great deal of satisfaction to know that I am part of an organisation that is a lifeline to so many people. It's a great place to work!
Accessibility of information
Naomi told me that since the start of the COVID-19  outbreak Deafblind UK has been dealing with calls from members seeking advice and information. She said that they are worried about how COVID-19 and the lockdown will affect the support that they receive from carers, PA, Support Workers and Communication Guides. She added that many of the people that Deafblind UK support do not have access to the internet and so are finding it hard to get the information they need.
One of her main concerns is that messages from government are not always clear. The daily government updates are not available in sign langauge. Also, the letters that were sent out to everyone were not available in large print or braille meaning some Deafblind UK members couldn't read them. Many members rely on family members or friends to read their letters, but this has had to stop because of lockdown.
Loss of independence
Naomi spoke about how their members are not as independent as they would normally be, as a lot of them come under the high-risk group category and so have not even been doing their shopping. They are having to rely on others and they hate it. There were also problems for them getting food at the start of the outbreak particularly when there was panic buying.
People who are visually or hearing impaired are not included on the government list of vulnerable people and this can create difficulties getting into shops with comm guides/support workers as there are two people together.  If they do use guides, then the guides aren't allowed to bring the shopping into the house, so members have to manage this themselves.
Social distancing has been difficult as people who are deafblind are unable to see social distancing markers on the floors in shops etc. If they go out alone, they are worried about bumping into someone. They also have to touch and feel things when out about, to know if they are picking up an apple or an orange. Some normally have volunteers to take them out into the community, but this has stopped as only essential support is currently being given.
Loneliness and uncertainty
Naomi said that she thinks the main emotional feeling is loneliness, caused by not being able to see family, attend social groups or have home befrienders visit and basically get out into the outside world.
There is also uncertainty; not knowing when things will get back to how they were. Members are missing the support they would normally receive to be able to do their own shopping and get out into the community or meet a friend for a coffee.
Life on hold
"One lady said she has always enjoyed talking books but has listened to so many of them over the last few weeks that she is now fed up with them."
People who are deafblind are being affected by anxiety and depression, they are worried about what's happening and don't always understand what's going on. They are not always able to hear the news on the TV/Radio. Some are listening to too much news and it all seems to be doom and gloom and depressing.
They are limited to what activities they can do due to their sight and hearing loss. The team recently spoke to one lady who said she has always enjoyed talking books but has listened to so many of them over the last few weeks that she is now fed up with them.
Some people are not even able to get out into their gardens without the support of someone as they are worried they may trip over and fall. There are feelings of being stuck, of not being able to get outside or to make plans, they feel that their life is on hold.
Counting the cost
Naomi told me that loss of income is a massive concern. Events like the London Marathon, the Leeds Half-Marathon and 10K were all big money spinners. Added to this, the charity's corporate partners had planned events which have had to be cancelled. They rely on voluntary donations, which makes it difficult as it means the support they can give people is dependent on the funds they can raise. They have recently sent an appeal out which they hope will bring in some funds.
Positive partnerships
Naomi finished by telling me that they recently put a call out for volunteers on social media and received 150 applicants over a weekend. She said that it was great to see this level of support and to see people coming to together to help during a crisis.
Deafblind UK Helpline
Deafblind UK's helpline is open between 8.00am and 8:00pm every day of the week. Trained staff are on hand to support people who have any level of sensory loss, their families and anyone who works with them. They can give practical help, information and advice and offer in-depth emotional support to people who need it.
The helpline can be accessed in the following ways:
Tel: 0800 132320 | Text: 07950 008870 | Text relay: 18001 then 0800 132320