Tackling Coronavirus
Episode 3: West Leeds Men's Network
By Sean Tunnicliffe, Communications Officer, Forum Central
This the latest in a series of blog posts where I talk to key workers from local third sector organisations about how the Coronavirus outbreak has impacted upon them and the people they support.  We will also look at how they have adapted the way they work to meet this unprecedented situation we find ourselves in.
For this episode, I met with Ian Pepper, who coordinates the West Leeds Men's Health Network which is a project of Barca Leeds
Supporting the network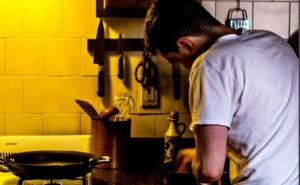 The group is mixture of men from different backgrounds and with different needs.  Some of the men aren't in contact with other services but pretty much every member has contact with at least one person other than Ian.
Ian said the older men in the group tend to be less socially isolated than some of the younger men adding that the two oldest members are probably the most socially connected of all. These older men come to the group as a social thing more than for support.
The Network is just run by Ian and he told me it can be stressful at times as his role has changed completely since the outbreak of COVID-19 but he has adjusted to the changes. He has a background in counselling, which has been useful as he is now finding himself doing one-to-one rather than group work and that this isn't his role.
Getting connected
While some of the men in the group are socially isolated several have regular contact with people and attend several of the groups that Barca runs. Since COVID-19 these groups have had to stop or be organised in a different way and Ian spoke about how this was working out for the men in the group.
Getting some men in the group online has been difficult for different reasons, some have struggled with or don't have access to the technology needed to get online. Barca has provided some of the men with Smartphones to help them to get online but some haven't used them as they struggle with the technology. Ian has spent time talking to members and helping them with the technology to try and resolve this problem.
Staying connected
Ian is using various online and social media platforms to offer support and social interaction to the men in the group and we spent some time talking about these and their pros and cons.
Some of the men have tried Zoom but not many of them use it as most don't like it. They've all given it a go, but some don't like how it works, how it looks, or they just don't like the feel of it and so mostly the Zoom meetings are made up of only a few people.
There is a Facebook Group which Ian posts on daily. He always includes an uplifting song and an animal video along with news stories and advice relating to COVID-19 and the lockdown. He feels that there is a lot of misinformation around, so he encourages members to listen to the scientific advice from the experts as much as possible to help them to make their own judgements as to what they should do, particularly around the easing of lockdown.
There is also a WhatsApp group, which is more popular and most of the group use this and regularly post, sharing things such jokes and memes. Ian also shares the links and codes for Zoom meetings so the men can access them if they want to take part.
On the phone
Ian makes weekly phone calls to members which gives them the opportunity offload their problems get advice or just chat with him. It's also an opportunity for Ian to help them and offer them any support they might need. There are also some men who don't really want to engage at the current time, so Ian contacts them by text. This means that he is in contact with pretty much everyone in the group.
Virtually supporting
"the online way of doing things allows more men to engage, some of whom wouldn't previously have come to group meetings because of the practicalities of getting somewhere. In some ways it's a much better way to reach out to the more vulnerable people."
I asked Ian what he thought were the benefits and drawback to offering support 'virtually' compared to group meetings. He replied that in a way there are more people doing things that they weren't doing previously.
He said the online way of doing things allows more men to engage, some of whom wouldn't previously have come to group meetings because of the practicalities of getting somewhere. In some ways it's a much better way to reach out to the more vulnerable people. People are learning new skills and learning to do things in different ways which Ian said feels really good.
He said that phone check ins have allowed him to strengthen and enrich relationships and get to know people better and to learn more about what their lives are like outside of the group.
Ian told me that one of the main drawbacks is that he is dealing with men who do struggle socially and find engaging hard and sometimes it's even harder for them to do that online because talking on the phone or on Zoom requires so much more effort and can create some barriers or exacerbate barriers that are already there.
Keeping your distance in lockdown
When it comes to coping with lockdown and social distancing Ian said it's varied. Some men are coping well, they understand about social distancing and have routines that they follow. Others are coping less well, for example, some of the men have older parents who have had to go into hospital and been quite poorly, and this has caused concerns and  anxiety for them.
Positive Partnerships
One man told Ian that one of the positives he's learned since lockdown started is that he hadn't realised there was so much out there, and so he is now very much engaged in the different online groups and goes to something nearly every day and he talks about how much he values that.
Information
Who is the service for? Men in Armley and Bramley who are struggling with issues around social isolation and mental health issues.
Referral Criteria There is no referral criteria. Men can self-refer by turning up to the groups advertised opposite.
Get in touch
Phone: 07738 107 012 | Email: [email protected]
West Leeds Men's Network Facebook page