To celebrate
International Day of Disabled People (IDODP) 2021
, Forum Central will be promoting
a week-long programme of online and face-to-face events and activities
as well as hosting
a small marketplace and celebration event
on the day, Friday 3 December 2021, at Leeds City Museum.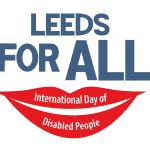 The theme for this year is "Leeds for All – Recovery from Covid-19"; to acknowledge and highlight people with disabilities and how we can champion those rights to create a city friendly for those with disabilities. It will be a space for celebration, reflection, connection, acceptance and challenge.
How can I get involved?
Promote your activity as part of the celebrations:
This can take place at any point from

Monday 29 November – Thursday 2 December

. You can also propose an activity to take place during the IDODP event at Leeds City Museum on

Friday 3 December

We will

promote your activity/activities

as part of the IDODP 2021 programme. This is a fantastic opportunity to

reach a wider audience and gain greater exposure

of the amazing work you do 

The programme aims to include

highly accessible content

consisting of digital events, performances, films and discussions which will be available face-to-face online, live streamed and/or pre-recorded

Face-to-face activity

(for example postal craft packs or trails) are also welcome to enable those who aren't digitally connected to still take part. These activities must adhere to current Covid guidelines.

It is the responsibility of the organisation to

arrange bookings

and

host the event

 

Please note, activities/groups/workshops

can be existing and ongoing

within your service – you do not need to create anything new 
Host a stall at the event on Friday 3 December:
Come along and

host a stall

at our

IDODP celebratory event

on Friday 3 December from 10am-3pm at Leeds City Museum.

We will have a

maximum of 15 stalls

available and will allocate these on a first come, first served basis.
How do I apply?
Complete this form to propose an activity for promotion as part of the IDODP programme, taking place either Monday 29 November – Thursday 2 December, or on Friday 3 December
Complete this form if you would like to apply to have a stall at the Market Place on Friday 3 December from 10am-3pm at Leeds City Museum
Please return completed forms to [email protected] by 10 September 2021 at the latest or get in touch with Zaira if you have any questions about how you can take part.
To find out more about last year's event, take a look at: