Team Leeds Chat: Talk. Listen. Connect.
Connecting with others is key to help develop one health and care team for Leeds. Sharing your experiences and listening to those of your colleagues can help build new bonds. We have all got through the Covid-19 pandemic together, and we will get through the winter together. But everybody's experience of the pandemic is unique to them.
This is where a Team Leeds Chats are all about. Over the next few months, we are encouraging anybody who works in health and care in Leeds to take part in a Team Leeds Chat.
In February and March we are hosting a series of dedicated Team Leeds Chat, where you will have the opportunity to talk, listen and connect your Team Leeds colleagues from across the system.
Tuesday 1 March, 11:00 to 12:00 – a TLC for our colleagues from Black, Asian and Minority Ethnic (BAME) communities, and other diverse communities. Introduced by Jim Barwick, Chief Executive of Leeds GP Confederation.
Thursday 10 March, 13:00 to 14:00 – Team Leeds: working even better together. Introduced by Pip Goff, Chief Executive, Forum Central.
Wednesday 16 March, 13:00 to 14:00 – Living and working through the pandemic. Introduced by Dr Sara Munro, Chief Executive, Leeds and York Partnership Foundation Trust.
Tuesday 22 March, 11:00 to 12:00 – a TLC for our colleagues who are also Carers. Introduced by Tom Riordan, Chief Executive, Leeds City Council
To book your place at one of the events please email us with the date you would prefer. All events will take place on MS Teams. Email: [email protected]
We have developed three key questions that can help from your Team Leeds Chat:
How has it felt for you during the pandemic?
Have you been able to work together with colleagues from different health, care and third sector teams or services during the pandemic? And what benefits has that brought?
What might make it easier for you, or encourage you, to build effective relationships with colleagues in other health, care or third sector teams or services?
These are meant to help you get the conversation started, and hopefully they will inspire a good chat, and help you form good connections.
You can do it one-to-one with someone you already know, or why not try connecting with someone from a different service or organisation? You can also have a Team Leeds Chat with your whole team. It can be a quick chat of a couple of minutes, or you may decide to dedicate a whole team meeting to it. Whatever works best for you; we've provided more guidance below to support you in hosting a Team Leeds Chat.
After you have taken part in a Team Leeds Chat, take a few minutes to reflect on the discussion – and we would love to hear what you have discussed. You can share your thoughts through our online form – coming soon.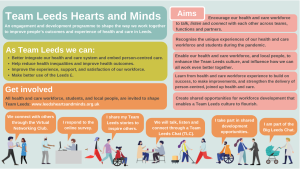 By providing us with feedback we hope to develop a better understanding of what the last 18 months or so have been like, and to hear your experiences of collaborative working. This in turn will help shape the future of Team Leeds.
We will also be hosting a series of Team Leeds Chats with specific staff groups – details of these will be shared on this page in due course, and through your internal communications channels.
A guide to being a TLC Chat Maker
Chat Makers play a key role in facilitating chats, making people feel safe to speak openly, ensuring everyone has the opportunity to talk, and also feeding back key messages to the programme group. You do not need any specialist training to be a Chat Maker, just a passion for valuing the importance of the voices of our workforce. We have created a handy guide to support you in successfully being a TLC Chat Maker, which is available to download below.