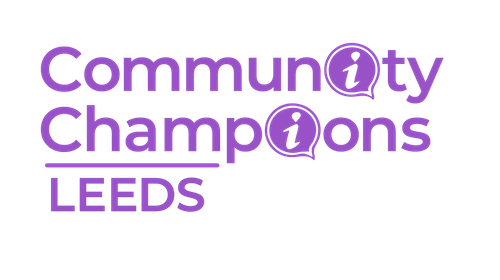 Help share accurate information with your community about health and wellbeing
Volition, on behalf of Forum Central, are working with Partners from Leeds City Council and Voluntary Action Leeds to Coordinate the work of the Community Champions in Leeds.
Community Champions are people, or organisations, who care about keeping their community informed about staying healthy and well.
Could you or your organisation be a Community Champion volunteer?
As a volunteer you would communicate with people, like friends, family and your community. Sharing information through one to one or group conversations, online and on social media. Community Champions help to spread accurate information about important subjects to do with keeping healthy and well, such as the COVID-19 vaccination.
Resources for Community Champions can be found here: https://doinggoodleeds.org.uk/community-champions/resources/
There are three Community Champions roles:
Community Champion – sharing key public health messages, like those about vaccinations or COVID-19, with family and friends. This can be done remotely from home.
Community Engagement Champion – sharing key public health messages with the local community as a volunteer on location responding to a rapid or urgent need to support a local priority area. There will be different locations and call outs for volunteers at short notice.
Community Champion Organisation – organisations pledge to support Community Champion health and wellbeing priority messaging. They support staff to sign up and volunteer as Community Champions to support the sharing of health messages, including around COVID-19, and vaccination uptake amongst staff, service users and communities. Organisations in Leeds that might suit this role are; third sector organisations, local businesses, educational establishments including grass root groups, constituted groups and residents' associations.
If you're interested in being a Community Champion in your local area or as an organisation, sign up on Be Collective, or get in touch by emailing [email protected] if you have any questions.
Join our group on Be-Collective – https://uk.becollective.com/groups/605329dfea90c70024e73658/opportunities
If you are passionate, friendly, and want to make a difference in your community this flexible volunteering role might be perfect for you!