The Forums Partnership Board comprises of trustees, including the chairs, from each of the trustee boards of Volition and Leeds Older People's Forum, which in partnership form Forum Central. The role of Chairperson at the Forum Partnership meeting alternates, with each of the boards taking it in turn.
| Trustee | Organisation | Role |
| --- | --- | --- |
| Zoe Bawn | United Response | Chair |
| Tricia Gradys | Leeds Older People's Forum | |
| Roger Harington | Leeds Older People's Forum | |
| Helen Kemp | Leeds Mind | |
| Ruth Kettle | Inspire North | |
| Bill Rollinson M.B.E. | Leeds Older People's Forum | |
Leeds Older People's Forum
Leeds Older People's Forum is made up of older people and managers, chief executives and project workers from some of the forum's member organisations – all of which work with older people.
| Trustee | Organisation | Role |
| --- | --- | --- |
| Roger Harington* | Individual | Chair |
| John O'Dwyer | Caring Together in Woodhouse & Little London | Vice Chair |
| Bill Rollinson M.B.E.* | Individual | Acting Treasurer |
| Carole Gosden* | Individual | |
| Bronwen Holden* | Leeds Hospital Alert | |
| Margaret Bell* | Individual | |
| Cath Mahoney* | Individual | |
| Ruth Cornelissen | Care & Repair Leeds | |
| Tricia Gradys* | Individual | |
| Corrina Lawrence | Feel Good Factor Leeds | |
| John Welham* | Individual | |
| Satwant Rait* | Individual | |
| Gabrielle Hamilton | Leeds Museums & Galleries | |
| Rachel Koivunen | People in Action | |
| Susan Chesters* | Relatives and Residents Association | |
| Susan Phillips* | Individual | |
| David Smith* | Individual | |
| Cllr. Rebecca Charlwood | Leeds City Coucil | Representative from Leeds City Council (observer) |
| * Older person | | |
A minimum of 75% of the charity trustees must be older people (an older person is defined by Leeds Older People's Forum as a person aged 60 years of age and over).
The Volition Board of Trustees is the governing body providing leadership and direction for the organisation. The Board is drawn from Volition member organisations, all of which are third sector and offer services to people with learning disabilities, physical and sensory impairments or mental health problems.
Adam is CEO at Meanwood Valley Urban Farm in Leeds, which provides opportunities for people who might not otherwise get the chance to experience the natural environment, as well as animal care and food production.
Previously, Adam was an elected Councillor on Leeds City Council in South Leeds for 19 years, a number of which were spent as an Executive Member for Adult Social Care, and prior to that Leisure and Skills. He had the chance to be Co-Chair of the Leeds Adult Learning Disability Partnership Board for five years and to learn and be guided by the lovely and amazing group of adults with learning disabilities in the city.
Adam became a member of Tenfold (now Volition) in 2014. Adam believes that together, the third sector organisations in Leeds are a real force to be reckoned with and hopes they can collectively continue to put people at the centre of their own health and care, as well as reduce the still too wide health inequalities that exist in the city.
In his spare time, Adam enjoys exploring the cultural offerings in Leeds, hiking in the hills and drinking gin – although not necessarily all at the same time!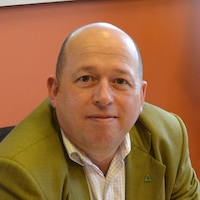 Adrian was new to the Volition Board in 2020 but has been involved as a Trustee on other Boards, including Voluntary Action Leeds for almost 20 years. Adrian works for Groundwork, the leading Environmental and Social Regeneration Charity in the UK. The organisation has long identified that the environment has a critical role to play in people's health and wellbeing – something that Covid-19 has really brought home to many.
Adrian aims to use his experience of the positive impact that the environment can play to support the role Volition plays in influencing decision making with health partners. Adrian is passionate that fuel and food poverty have an insidious impact through society in Leeds and we should do all we can to not only mitigate it but find permanent solutions. Allied to this is the relative accessibility of green space for those struggling with day to day challenges, and this is something that can be changed as part of the changes that are already planned. In his role as a Trustee of Volition, Adrian is keen to build an understanding of the great work Volition does, and to help Volition and its fellow infrastructure partners work more closely together.
Outside of work, Adrian enjoys spending time in the garden, travelling with his family, and cycling. His favourite place in Leeds is the Dark Arches/Granary Wharf, where canal towpaths lead in and out of Leeds and under the train station.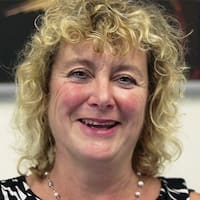 After a career in finance, Carol took up the role of Director at Catholic Care in 2012. Instead of dealing in numbers she now works with real people, the issues that matter to them and how barriers can be dismantled so that they can achieve the very best life has to offer. Carol enjoys a challenge and this change in career has certainly provided that, but she has never looked back and wouldn't swap it for anything.
Carol has been a Trustee of Volition since 2014. She became involved as she believes no one should be left behind by society because they don't confirm to a perceived norm. To support organisations who in turn support those with poor mental health, visual impairments or a learning, so called, disability seemed a good way for Carol to give something to these people.
Carol is most passionate about services across the city achieving equality in health regardless of postcode. Her priorities as Trustee of Volition are to ensure recognition for the valuable work of the third sector, and supporting smaller organisations working within their communities at grassroots level.
Outside of work, extended family are Carol's priority, and she also enjoys gardening and walking. A certain pub in Headingley is her favourite place in Leeds as it's where she met her husband!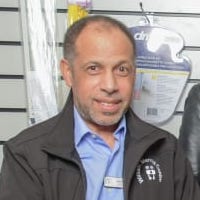 David is an experienced Manager working in both the Third Sector and Manufacturing Industry. Before moving to the Third Sector David's career was in the design and manufacturing of electronic equipment where he developed a personal interest in how technology can be used to assist daily living.
After changing career in 2000, David is now the General Manager at the William Merritt Disabled Living Centre who provide clinical assessments for disable people and the elderly to identify the correct equipment so they can remain independently mobile for longer. David was influential in transferring the Centre from the NHS to be an independent Charity and Social Enterprise, in 2013. With his personal experience of living with a long term condition and career knowledge he is able to provide informed leadership to assist the team in providing an extensive range of assistive living services.
David became a Trustee of the PSI Network (now merged with Volition) in 2017 as he believed that the best way to provide services that people need, is to work together. Being part of Volition provides the opportunity to work across Leeds and help develop a thriving Third Sector.
David is passionate about independent living and Volunteers with University of Leeds as a Patient Mentor, informing future NHS Doctors what it can be like living and working with a long-term condition. In his spare time he likes to take on DIY projects and supports his local Rugby League team.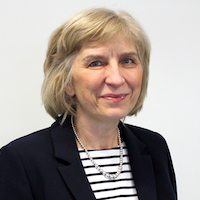 Helen has worked in the voluntary sector for 22 years, and as CEO of Leeds Mind since 2014. She is a Chartered Accountant by Profession.
Helen became a Trustee of Volition in 2015 to make a difference to people's lives by encouraging a cross sector approach to providing services through collaboration and partnerships. Helen's key priorities as a Trustee are sustainability, communication with members and enabling partnership working to improve services. In terms of Health and Care, she is most passionate about working towards the vision of Leeds being the best City and reducing health inequalities.
Helen is married with two grown up sons. She enjoys theatre, walking in the countryside, and exploring Leeds in her spare time. Roundhay Park is her favourite place because of its fabulous green space, and her fond memories of visiting as a child.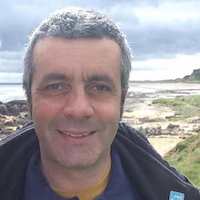 James is the Director of Pyramid, an arts organisation that has been supporting people with learning disabilities to discover the arts and to develop as artists, for over 30 years. James was a Trustee of Tenfold for three years before the organisations merged in 2020. He believes that many of the barriers and issues faced by people with learning disabilities arise out of different organisations not working as well together as they could, so the partnership working involved with Volition seems incredibly important to him.
James' key priorities as a Trustee are to learn more about the other groups of people supported by Volition and to make the most of the opportunity to work across the sector. In terms of Health and Care in Leeds, he is passionate about overcoming the inequality of opportunity too often faced by people with learning disabilities.
In his spare time, James enjoys playing the guitar, writing music, and going walking. His favourite place is a The Cardigan Arms because it's a beautiful building run by a local business, sells lovely beer, and welcomes kids and dogs.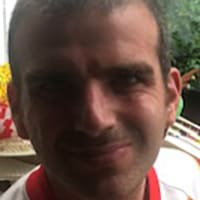 Oliver is independent and enjoys making his own decisions and making the most of his free time. He became a Trustee in 2019 because he wants to speak up for people who have learning disabilities and get their voices heard. His key priorities are to make good suggestions at suitable times, and listen to and take opinions and ideas of others onboard.
Oliver is passionate about the services out there for people with learning disabilities. He likes being in supporting living and having a care team.
Oliver likes going to see his Gran who lives in Ilkley when he can. He also enjoys DJing and walking and has done a few 10k walks for charity in the past as well as walking some of the Leeds to Liverpool canal route. He also plays rugby and is a huge Leeds Rhinos fan.
His favourite place in Leeds is Harewood, because he used to go there as a child with his mum, and it's a nice place to be.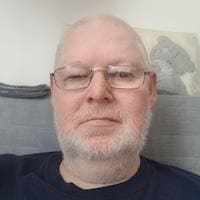 After becoming ill in the 90s and enforced retirement, Phil decided to give back to those who have helped him. He has volunteered within many areas of the third sector for over 25 years, which has provided him with wealth of knowledge within health, social care and the NHS.
As a qualified Engineer, he feels he can greatly contribute to organisations through problem solving. He believes we need to ensure the less fortunate are given equal chance in whatever they wish to do.
Phil is also a trustee at Leeds Involving People, Touchstone, Advonet, Leep1 and Yorkshire Cancer Community. In order to support his role within the Board of Trustees, Phil is a member of Yorkshire and Humber National Institute for Health Research, Chair of the Better Lives Board for Adults and Health, and also a member of Yorkshire Ambulances Critical Friends Network. Through all this Phil is gaining invaluable information, views, and insight into the worries and fears of a wide-range of communities.
Phil became a Trustee of the PSI Network (now merged with Volition) in 2012, because he believes it is the place to be to be at the forefront of health not only in Leeds but Yorkshire, and through this we can ensure changes in services are the correct ones and will ensure true care for all in Leeds and Yorkshire. His key priorities as a Trustee are to ensure voices are being heard and to ensure that services in Leeds for mental health, physical disability and learning disability are the exemplar.
In terms of health and care, he is most passionate about caring for others. He believes we don't do it enough and while changes won't happen in his lifetime, that doesn't stop him from ensuring it is better for others.
Phil's spare time is mainly spent volunteering as it keeps him going and his mind active – his mantra is "if I can, I will, if I can't, I'll be in bed ill." His favourite place in the city is wherever he is at the time. He loves Leeds and believes its people and passion for caring are second to none.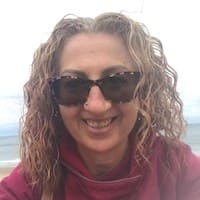 Ruth became a Trustee in 2015, having worked in the field of mental health in Leeds since 2003. Working for a Leeds based mental health charity, Ruth was aware of and went to many events run by Volition, and it felt natural to join the board to ensure that it sings the praises of and highlights the impact the third sector has in supporting clients.
Ruth is passionate about the third sector and hasn't worked in any other sector since beginning her career in the 80's! She believes we can and do make an enormous contribution and difference, reaching clients and communities in a way that can be quite different to many other services.
Her key priorities are to influence service provision and system change on behalf of the third sector of Leeds, to ensure we are part of a true partnership and can hopefully accelerate change and be part of the solution for the challenges clients face, and that we face as a system and as service providers.
Ruth is pretty busy with a full-time job running a large mental health, homeless and domestic abuse charity across the North of England, and being a single parent to her two school age children. So any spare time she has is spent doing exercise, running, swimming and cycling. She loves parkrun and pre-covid had clocked up over 100 runs, taking her young son along who is so quick as has to run with her faster, fitter friends! Ruth has also taken part in the Leeds triathlon every year since it began in 2016, even swimming in Roundhay Lake. She's also ended up being the safeguarding and inclusion officer for her local cycling club (which makes her chuckle as she thinks she's the slowest cyclist in the club!).
Ruth doesn't have a favourite place but feels lucky that we have lovely parks and open space in Leeds where she enjoys getting out in the fresh air. She also likes live music and comedy so is pleased Leeds now has a great venue in Leeds Arena.
Taira is passionate about social justice, fairness and equity, and has worked in the not for profit sector for 35 years, leading Domestic Abuse and community based organisations across West Yorkshire. She has been a Trustee since 2015 and became involved to support the Governance of what she believes is an important local infrastructure organisation which aligns to her personal values.
Her key priorities are ensuring the voices of smaller organisations are heard and that staff are supported to represent the views and experiences of organisations working with clients directly. She is passionate about doing all she can to inform and influence Health and Care Leaders and practitioners, presenting lived experiences from her work and the people of Leeds.
In her spare time, Taira enjoys travelling, reading, going to gigs and the theatre. She also follows F1 and likes to spend time with family and friends. There are lots a places in the city that hold a place in her heart, but Taira's favourite is Roundhay Park because of the precious memories of family time spent there since childhood.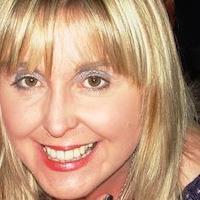 Zoe lives in Leeds with her two girls, who are 13 and 4, and works in Business Development for United Response, a national charity with services in Leeds. Zoe has always worked in the charitable or public sector environment having previously held roles with the Arts Council and a cultural consortium of Yorkshire Forward which supported charities and third sector SME's with grants and infrastructure support.
She became a Trustee of Tenfold in 2018 and had been involved in similar infrastructure support in the past so it seemed to be the right fit. Her priorities are to ensure the Board continues to bang the drum as loud as it can for the people of Leeds with learning disabilities, mental health needs and physical and sensory impairments, to have a strong voice across the City, and influence and be part of the change that needs to happen to ensure inclusivity in all that we do.
In her spare time, Zoe enjoys fitness, weight training, and running and walking with her girls. She is also very passionate about the Arts, from music/gigs, to comedy and theatre as she studied the arts as part of her degree.
Zoe has too many favourite places in Leeds to choose from; Chevin Forest, Golden Acre, stately homes like Harewood, gigs at the City Museum and Millennium Square and family events are all on the list – the City Varieties pantomime is also a firm favourite.