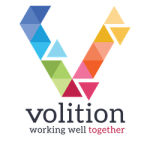 Volition
Volition is a registered charity (number: 1092126) and the lead provider of the Forum Central contract delivered in partnership with Leeds Older People's Forum. Volition delivers work across health and care in Leeds with a focus on learning disabilities, mental health and physical and sensory impairments.

Volition also work in partnership with mHabitat to produce and manage MindWell, the mental health website for people in Leeds. MindWell is funded by the NHS Leeds Clinical Commissioning Group and provides quick and easy access to up-to-date information for all adults in Leeds.
You can view the Volition team here: forumcentral.org.uk/about-us/our-team/
Background
Volition was first established in 1987 as the 'Leeds Voluntary Sector Mental Health Forum'. In 2004 the charity changed its name to 'Volition-Leeds'. In 2017 Volition merged with the PSI-Network – which was the key Leeds Third Sector infrastructure group working in the field of physical and sensory impairment. In 2020 it merged with Tenfold, the Learning Disability Forum. In April 2020 the newly merged organisation was named Volition.
Board of Trustees
The Volition Board of Trustees is the governing body providing leadership and direction for the organisation. The Board is drawn from Volition member organisations, all of which are third sector and offer services to people with learning disabilities, physical and sensory impairments or mental health problems. For more information about our Trustees, click here.