About the Physical and Sensory Impairment Network
The Forum Central PSI network aims to support third sector organisations that work to improve the lives of disabled people with physical and sensory impairments or long-term conditions in Leeds.
We promote the social model of disability, and the inclusion, independence and equality of disabled people.
Physical and sensory impairment include, for example: long-term physical conditions, hearing impairments, visual impairments and mobility impairments
Our member organisations support people through a variety of different ways including:
– Independent living, housing and specialist supported housing
– Carer support, employment support, peer support, one to one support
– Information and advice, campaigning and awareness
– Healthy living, sport, social activities, accessible transport, art and wellbeing
– Advocacy
To find out more about our members please search the Forum Central members directory
For more information on joining please contact us.
What we do
We work to ensure that our members are involved in strategic planning and development of services for disabled people.
We encourage partnership between agencies and across sectors, and provide information to third sector organisations to support them in delivering high quality services.
We hold networking events, run consultations, and communicate local and national news amongst our members. Our member organisations are at the heart of everything that we do. They are a mixture of:
Groups and organisations run by and controlled by disabled people
Organisations commissioned or funded to provide services for disabled people, including support to live independently, housing or employment support
Local groups which run social and other activities
Local support groups that are part of large, national charities for people with specific impairments or conditions
Disability sport organisations
Third sector organisations that support a range of people or communities, and which have specific regard for people with physical and sensory impairments
PSI Information and Strategy Updates
We hold regular physical and sensory impairment information and strategy sessions open to everyone with an interest in the disability third sector. These meetings are an opportunity to network, get the latest strategic updates and hear from guest speakers.
Latest updates
The last PSI Information and Strategy session was held on 9th February. You can read the notes from this session here.
Next meeting date: Tuesday 26th July (10:00-11:30)
Updates from previous PSI Information and Strategy Sessions 
If you'd like to join future meetings, please email [email protected].
International Day of People with Disabilities Event – #LeedsForAll
International Day of People with Disabilities – Leeds For All
Leeds for All is a working group established by Forum Central. We bring together third sector organisations and Leeds City Council to plan activities to celebrate and highlight the International Day of Disabled People (IDODP) each year.
Using the Social Model of Disability, Leeds for All provide an opportunity to address and celebrate the achievements and needs of people with disability in Leeds. The aim of the events is to highlight issues and challenges faced by disabled people and to create opportunities for learning and connectivity amongst individuals and organisations in Leeds.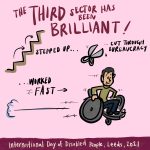 The 2021 event report is available in the following formats:
Representation
We work to ensure that third sector disability organisations are involved, along with the rest of the health and care sector, in major strategic developments that go beyond our specialist areas – It is important that disability organisations have a voice in this work.
Our members and the Forum Central team also take up opportunities to represent the third sector at boards, meetings and steering groups on issues that affect disabled people, such as transport, housing and employment.
Better Lives Board
The Board oversees and provides leadership for implementation of Adults and Health's Better Lives Programme.
Chair: Phil Gleeson, Leeds Involving People and Volition Trustee
Forum Central Representation: Karen Fenton, Volition Operations Manager
Inclusion for All Action Group
This group, chaired by Healthwatch Leeds was established in November 2019 aims to bring together representatives from health and care organisations across the city to address the effective implementation of the Accessible Information Standard, which became law in 2016 and makes accessibility a legal requirement for particular
Aiming to provide energy, ideas, actions to making health and care services in Leeds accessible for all communities. Focusing on actions and moving this important agenda forward, with commitments to taking actions individually, within own organisations and collectively as a city.
The group was established, following findings and recommendations from the Visual Impairments Snapshot report which Healthwatch Leeds produced in 2019.
Versions of the report can be found here  
For more information please contact [email protected]
Third Sector Reps: Karen Fenton, Volition Operations Manager | Jez Coram, LD Development Worker
(Also present are representatives from DeafBlind UK, Leeds hearing and sight loss service, Leeds society for deaf and blind, National Federation for Blind)
Physical & Sensory Impairment News & Events