About LOPF
Leeds Older People's Forum (LOPF) was established in March 1994.
It aims to promote the wellbeing of all older people in the city of Leeds.
The forum gives a more powerful voice to older people in shaping their city for the benefit of all its citizens.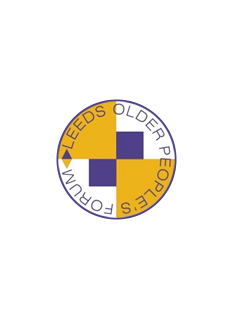 Membership
Leeds Older People's Forum (LOPF) has a membership of over 80 voluntary sector organisations working with older people across Leeds. This includes over 30 Neighbourhood Network Schemes.
Our member organisations support people through a variety of different ways, including:
– Advocacy
– Befriending
– Bereavement support
– Dementia services
– Form filling
– Healthy living and wellbeing
– Home-from-hospital service
– Housing, including specialist supported housing
– Information & advice, working with many of the communities with the greatest inequalities and those who are most at risk of poor health
– Reducing social isolation
– Referrals to other organisations
– Social activities
– Support for carers
– Support visits
– Transport, including accessible transport
– Trips and outings
– Winter warmth
All member organisations provide services dedicated to older people though they are not necessarily an older people's organisation.
The Forum supports its members and ensures the voluntary sector is involved in planning, developing and managing services for older people in Leeds.
You can search the Forum Central members directory for services here, or open a list of LOPF members here (pdf, 265KB, March 2017). For more information on joining contact us.
Leeds Older People's Forum has several core workstreams, each with equal priority:
Housing
Inter-generational
Campaigning
International Day of Older Persons
Neighbourhood Network Schemes
Housing
We've worked with our members and Public to produce the key foundations of a policy for Housing and Older People in Leeds. At its heart is the fundamental importance of involving older people and organisations that represent them and work with them in the development and future monitoring of the policy.
Inter-Generational
We have championed inter-generational practice, its mutual benefits to young and old, and power to create stronger communities. We believe that inter-generational work can help meet many of the city's priorities. We recently produced a report on intergenerational work in Leeds entitled 'Generations United in Leeds' which can be downloaded in the Information and Resources section on this page.
Campaigning
We are actively engaged in campaigning to make Leeds a "City For All Ages." Campaigning strands include hospital discharges, housing, making Leeds an Age and Dementia Friendly City, and LOPF's Manifesto.
International Day of Older Persons
Each year, since 1998, Leeds has celebrated the International Day of Older People (1st October). These celebrations extend beyond that day, usually for around a week and a half through a series of community events. Many of these receive small grants of up to £200 via LOPF. The aim of IDOP is to promote the contribution older people make to the city.
Neighbourhood Network Schemes
Neighbourhood Network Schemes are community based, locally led organisations. They enable older people to live independently and pro-actively participate within their own communities. They provide services that reduce social isolation and provide opportunities for volunteering. They also act as a "gateway" to advice, information and services that promote health and wellbeing and thus improve people's quality of life.
Dementia
The Dementia-Friendly Leeds Campaign Officer for the city works for Leeds Older People's Forum in partnership with Alzheimer's Society and Leeds City Council.
They run the Leeds Dementia Action Alliance and work with people living with dementia and their families and carers. They also encourage local groups and organisations to join the Alliance, and support community projects to help neighbourhoods become more 'dementia friendly.' For more information please visit: www.dementiaaction.org.uk/leeds
Older People news and events
New Men's Mental Health Website and online support service has been launched -  http://www.LeedsListeningRoom.org. With videos about DIY, cooking, exercise, gardening and more, the Listening Room is where men in Leeds can talk to a trained listener, bookable until 9pm. [...]
Active Leeds have put together a document to help encourage more physical activity. The aim is to support organisations, staff and volunteers to help people become more active as lockdown eases. This useful guide includes a summary of official guidance, [...]
Time to Shine is now entering the final year of it's work to reduce social isolation and loneliness in older people.  The final year will be spent sharing the project's learning more widely through a series of practitioner focused workshops, [...]
Representation
LOPF Trustees and staff are involved in many local, regional and national strategic groups which cover issues of relevance and concern to older people. We also meet regularly with local councillors, commissioners and managers from local health and social care.
Local
The Best City to Grow Older in Board
Leeds Age Friendly Partnership
Equalities Assembly Age Hub
---
Regional
Future Years (Yorkshire & Humber Forum Ageing)
Yorkshire & Humber Dementia Action Alliance
---
National
U.K. Advisory Forum on Ageing (including Working Groups: Transport; Age Friendly Environments and Safe, Warm Homes)
Age Action Alliance (AAA) "Money Matters" working group
Care & Repair England's National Older People's Housing Champions Network
Strategic Information
Making Leeds the Best City to Grow Old In is one of Leeds City Council's seven breakthrough projects. These projects provide a focus on priorities in key areas of work for +the city. This breakthrough project plan is based on the eight World Health Organisation (WHO) Age Friendly City domains:
Civic Participation/Employment
Communication and Information
Social Participation
Housing
Outdoor spaces and buildings
Respect and Social Inclusion
Transportation
Community Support and Health Services
They are also reflected in the Age Friendly Charter which was launched jointly by Leeds Older People's Forum and Leeds City Council. It specifies pledge that citizens and a range of organisations to adopt to contribute to making Leeds Age Friendly. The pledges were written in consultation with older people in Leeds.
The cities' key ageing and ageing related strategies are:
Leeds City Council is currently reviewing a range of provision it commissions for older people including; residential care, home care, day centres, community meals and Neighbourhood Network Schemes.