About the Mental Health Network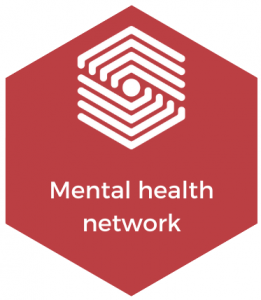 Forum Central promotes good mental health for all people in Leeds. We work to ensure that the health and care third sector is involved in strategic planning and development of mental health services.
What we do
Encourage partnership working between agencies and across sectors, providing information to third sector organisations to support them in delivering high quality services.
Ensure that the third sector is an integral part of the strategic planning and development of mental health services in Leeds.
Maintain working relationships with mental health commissioners and statutory partners across the city, working together to continuously improve the services Leeds provides to support people's mental health.
To find out which of our member organisations deliver mental health services, visit our member directory.
We hold regular mental health information and strategy sessions open to everyone with an interest in the mental health third sector. These meetings are an opportunity to network, get the latest strategic updates and hear from guest speakers.
Latest updates
The last Mental Health Information & Strategy meeting was held on 30th November You can read the notes from this session here.
Next meeting date: Monday 21st March (13:00-14:30)
The network meet every 2 months via Zoom. We may go back to quarterly meetings, depending on COVID-19 and its impact on our services.
We recommend that if you cannot join us, a colleague takes your place or, if you wish to convey a message to the network, please send us the information up to 7 days before the meeting and we will bring it to the meeting on your behalf.
Membership
Our member organisations support people through a variety of different ways, including:
– Peer support, one-to-one support, psychological therapies, counselling
– Healthy living, group wellbeing activities, self-management courses, arts and wellbeing
– Mental health specialist services
– Carer support, Dementia services
– Employment support, homelessness support, specialist supported housing
– Anti-stigma work, Advocacy, information and advice
– Working with many of the communities with the greatest inequalities and those who are most at risk of poor mental health.
Our members are at the heart of what we do, and we aim to ensure that organisations both large and small can influence decisions about mental health across Leeds and the region, as well as nationally.
To find out more about our members please search the Forum Central members directory
For more information on joining please contact us.
Representation
Our members and the Forum Central team play an active part in the key strategic mental health and wellbeing groups and boards in Leeds.
Leeds Mental Health Strategy 2020-2025

The strategy seeks to tackle head on some of the greatest challenges we face as a city, ensuring that mental health underpins everything we do, whilst targeting efforts where they are most needed so that the heath of the poorest improves the fastest,  and so that 'Leeds will be a Mentally Healthy City for everyone'.

Summer Time Out Programme Report

This report reviews and evaluates Summer Time Out, a month-long virtual festival of learning and information focused on mental health and wellbeing at work for staff and volunteers in Third Sector organisations in Leeds.
The Leeds Suicide Audit is nationally recognised as best practice and is recommended by Public Health England. Details are available from the Leeds City Council website.

Suicide prevention: Guidance for frontline workers and volunteers.

This guidance is for anyone supporting people during the Covid-19 pandemic in Leeds to help them feel more confident to talk to someone about suicide. It has been produced by the Public Mental Health team (Leeds City Council) along with people from the Leeds Strategic Suicide Prevention Group.
Leeds in Mind 2017 (pdf)

The Leeds in Mind 2017 –  Mental Health Needs Assessment report assesses the mental health needs of the adult Leeds population, identifies where gaps in provision exist and makes recommendations to address inequity in access to healthcare and unequal health outcomes.
Mental Health news and events
The Check-in campaign from West Yorkshire Health and Care Partnership aims to initiate wellbeing conversations to help reduce the stigma associated with mental health difficulties and to eliminate judgement. We want to promote a working culture across West Yorkshire where looking after [...]
Mentally Healthy Leeds groups are for anyone in the community that is feeling a bit isolated or anyone that is looking to make more positive social connections. People from Burmantofts, Richmond Hill, Harehills, Gipton, Armley, Wortley and Farnley are welcome [...]
Scope support and work with people with any disability, learning difficulty, mental health condition, physical impairment, sensory impairment, or long term health condition. Their employment services, Starting Line and Kickstart support people to get back into employment, volunteering or education. [...]