About the Mental Health Network
Forum Central promotes good mental health for all people in Leeds. We work to ensure that the health and care third sector is involved in strategic planning and development of mental health services.
Volition-Leeds 
Our Mental Health specialism is a strand of work delivered by Volition, one of the Forum Central Partners.
Volition was first established in 1987 as the 'Leeds Voluntary Sector Mental Health Forum'. In 2004 the charity changed its name to 'Volition-Leeds'. In 2017 Volition merged with the PSI-Network – which was the key Leeds Third Sector infrastructure group working in the field of physical and sensory impairment. In 2020 we merged with the Learning Disability Forum called Tenfold. Having been known as PSI-Volition after the first merger, following consultation with all members a decision was taken by the board to be known as Volition in April 2020.
The organisation is a charitable company limited by guarantee, incorporated on 3 August 2000 and registered as a charity on 21 May 2002. The company was established under a Memorandum of Association which established the objects and powers of the charitable company and is governed under its Articles of Association as amended by special resolutions on 22 January 2018 and 22 August 2019.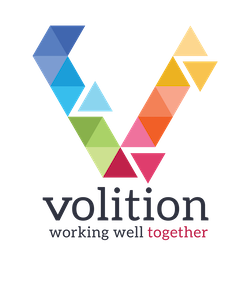 Membership
Our member organisations support people through a variety of different ways, including:
–  Peer support, one-to-one support, psychological therapies, counselling
–  Healthy living, group wellbeing activities, self-management courses, arts and wellbeing
–  Mental health specialist services
–  Carer support, Dementia services
–  Employment support, homelessness support, specialist supported housing
–  Anti-stigma work, Advocacy, information and advice
–  Working with many of the communities with the greatest inequalities and those who are most at risk of poor mental health.
Our members are at the heart of what we do, and we aim to ensure that organisations both large and small can influence decisions about mental health across Leeds and the region, as well as nationally.
To find out more about our members please search the Forum Central members directory
For more information on joining please contact us.
What we do
Encourage partnership working between agencies and across sectors, providing information to third sector organisations to support them in delivering high quality services.
Ensure that the third sector is an integral part of the strategic planning and development of mental health services in Leeds.
Maintain working relationships with mental health commissioners and statutory partners across the city, working together to continuously improve the services Leeds provides to support people's mental health.
Mental Health news and events
Volition is recruiting 3 Trustees to join their Board and are pleased to share five candidates for Volition members to consider and vote upon. To help you consider your preferred candidates, the skills and experience we are looking for, [...]
As part of the Community Mental Health Transformation Programme, Our partner Volition is seeking to recruit a Third Sector Community Capacity Builder. The Community Mental Health Transformation Programme is a partnership of service users and people with lived experience, [...]
Leeds LGBT+ Minds is holding a Community Wellbeing Festival, co-hosted by Leeds Mental Wellbeing Service and Trans Leeds. The festival will take place virtually and in-person between 29 November and 04 December 2021. This event is open to anyone who [...]
Mental Health – Strategic Information
We hold regular mental health information and strategy sessions open to everyone with an interest in the mental health third sector. These meetings are an opportunity to network, get the latest strategic updates and hear from guest speakers.
Latest Updates
The last Mental Health Information & Strategy meeting was held via Zoom on 14th July 2021.
You can read the notes from this session: Mental Health Meeting notes 14th July 2021
Previous Updates
Dates for 2021
Thursday 22 September (13:00-15:00)
Thursday 30 November (10:00-12:00)
Currently, we meet every 2 months and will continue to do so virtually. We may go back to quarterly meetings, depending on COVID-19 and its impact on our services.
We recommend that if you cannot join us, a colleague takes your place or, if you wish to convey a message to the network, please send us the information up to 7 days before the meeting and we will bring it to the meeting on your behalf.
For information contact us at [email protected]
Third Sector and LYPFT Partnership Forum
The Leeds and York Partnership Foundation Trust (LYPFT) Third Sector Partnership Forum meets quarterly. Meetings are open to staff and volunteers from LYPFT services, and Leeds mental health third sector organisations.
Guest speakers or participants from other partner organisations (e.g. Leeds Community Healthcare Trust, Leeds City Council, Leeds CCG) may be invited to attend where appropriate.
Download the Partnership Forum Principles of Working Together
Dates for 2021:
In December 2020 meetings were put on hold due to the pressures of the pandemic. Forum Central & LYPFT reinstated the meetings in July 2021, and they will take place around three times a year. Please email [email protected] for more information.
Previous meetings:
The most recent meeting was held on Thursday 1st July 2021 and the theme was Reset & Recovery. Download links to the slides from the meeting are available below:
September 2020 Meeting
Representation
Our members and the Forum Central team play an active part in the key strategic mental health and wellbeing groups and boards in Leeds.
Mental Health Partnership Board
The Mental Health Partnership Board (MHPB) is made up of commissioners from health and social care, people with lived experience of mental health difficulties, and providers from statutory, third sector and public health services, and is the strategic board for mental health in Leeds. It is responsible for driving the mental health agenda across the city forward, as well as oversight for service development.
The Board is chaired by:
Caroline Baria, Deputy Director of Integrated Commissioning at Adults and Health, Leeds City Council
Helen Kemp, CEO of Leeds Mind
The third sector representatives are:
Sinead Cregan, Director of Development and Innovation at Inspire North
Tessa Denham, Director of Women's Counselling and Therapy Service and PSI-Volition Trust
Iain Anderson, CEO of Age UK
Jenny Groves, Founder & CEO of Battle Scars
Jay Silver, Clinical and Community Services Manager at Touchstone
Karen Fenton, Volition Operations Manager
Pip Goff, Director of Volition
Leeds Mental Health Strategy
The Leeds Health and Wellbeing Strategy provides a framework for improving health and for making Leeds the best city for health and wellbeing. In response, the Leeds Mental Health Strategy sets out how we will achieve this vison for mental health, so that 'Leeds will be a Mentally Healthy City for everyone'.
View the Leeds Mental Health Strategy 2020-2025
Senior Responsible Officers (SRO's) have been identified for each of the priority groups which are now forming and detailing project initiation documentation, workstreams and identifying key representatives and outcome/person centred measures for each. This diagram shows the delivery plan in summary and SRO's aligned to each Priority as of Nov 2020 (subject to change).
An SRO's group meets regularly to oversee progress and reports directly into the Mental Health Partnership Board for Strategic governance and steer.
As each workstream develops third sector representation will be key. If you are interested in finding out more about how to get involved and becoming a rep for the sector with support from Forum Central, please contact [email protected]
Background: Prior to Oct 2019 the draft document for the strategy was presented at a variety of stakeholder engagement events, including the MH info & Strategy session in Sept 2019.
Mental Health Collaborative
To make best use of our strengths, maximise the opportunities and meet our challenges, the Mental Health Collaborative has been created, bringing partners together to 'improve lives, support recovery and inclusion', one of the three components in the Mental Health Strategy's model for change.
With a focus on people and services, the Mental Health Collaborative provides the space and conditions for partners to plan, design and take action to ensure pathways and services are:
continually improving
accessible and responsive to people's needs
integrated in delivery wherever possible
diverse in delivery but consistent in culture
Meeting the needs of people in Leeds
Commissioners and providers of mental health services are joined by people who have used services, or are carers of those who have, or those who potentially could do (so anyone with an interest in improving mental health services in the city). The aim is for public involvement in the collaborative leading to co-production of solutions, with people shaping decisions and holding commissioners and providers to account. This is about building a new relationship with the public around the future of mental health in Leeds.
There is a mental health collaborative working group which meets frequently to discuss the formation of this important new group and identify work plan priorities and next steps. Sarah Wilson, Mental Health Development Worker for Volition currently represents the third sector on this, alongside Battle Scars' Jenny Groves and Leeds Involving Peoples Joy McMillan who will focus on bringing in the voices of people.
The Collaborative is initially focusing on Priority 6 of the mental health strategy – relating to crisis and follow on from learning and actions identified at the crisis summit in Jan 2020 and insight gathered to create the Healthwatch and Battle Scars Crisis reports in 2019. There is third sector representation in these meetings from Leeds Survivor Led Crisis Service, Community Links/Inspire North, Touchstone & The Market Place.
There is also a Mental Health Collaborative third sector wider reference group Forum Central set up to involve third sector services who refer into crisis, to ensure their voices are heard. Currently, 30 third sector organisations feed into this group.
Sarah feeds the insights of this group into the core working group, you can see the presentations and compiled notes below:
The collaborative work around crisis has been split into five themes, upcoming meetings are included in bold:
Define – Discovery – Dreaming – Design – Do
If you wish to find out more please contact sarah.wilson@forumcentral.org.uk
MindWell Steering Group
MindWell is the mental health website for everyone in Leeds. It was launched in October 2016 to provide a new and innovative way of supporting people in Leeds. The aim is for everyone to get the information they need about mental health. This includes what to do when you are unwell, how to support someone else you are concerned about, and lots of information and resources about having good mental health.
PSI-Volition and the third sector continue to play a key part in Mindwell's development. The MindWell Content Manager is co-located at Forum Central's offices.
Third sector representatives:
Helen Kemp, CEO Leeds Mind and PSI-Volition trustee
Strategic Suicide Prevention Steering Group
This group brings together third sector, statutory sector and other key partners in the city to oversee the delivery of a coordinated multi-agency response to reduce the number of people who die by suicide. The group also champions support for those bereaved by suicide and the prevention of poor mental health.
Chair: Catherine Ward, Consultant in Public Health, Leeds City Council
Third sector representatives:
Karen Fenton, Volition Operations Manager
We're currently working with Public Health around supporting vulnerable men transitioning out of prison, strengthening connections between prison and third sector services and signposting to mental health resources and support including Mindwell.
Mindful Employer Steering Group
Developed by employers, for employers, Mindful Employer® is a national initiative which promotes positive practice around mental health in the workplace. Mindful Employer in Leeds is funded by Leeds City Council Public Health and delivered by Leeds Mind.
The Mindful Employer Leeds service offers support and guidance to employers around mental health in the workplace, encouraging best practice and the reduction of mental ill-health at work. Employers can also join the Mindful Employer network, which meets regularly to share good ideas, tips and support.
The Steering Group consists of cross-sector representatives, and meets quarterly to drive the initiative forward in Leeds.
Third Sector representatives:
Helen Kemp, CEO Leeds Mind and PSI-Volition trustee
Karen Fenton, Volition Operations Manager
Jenn Bravo, Turning Lives Around
Sarah Wilson, Mental Health Development Worker
Strategic Reset and Recovery
Forum Central and third sector mental health organisations are working closely with our partners across the health and care mental health system towards System Reset and Recovery (STaR)
There are a number of sub-groups which meet frequency to progress work on capacity planning, shared opportunities, reopening of face to face services and digital offers as well as considering modelling, demand and best placed funding and support in future and prevention and communications planning.
This diagram shows the structure as it currently stands.
Please contact [email protected] for further details on this work.
Leeds Mental Health Strategy 2020-2025

The strategy seeks to tackle head on some of the greatest challenges we face as a city, ensuring that mental health underpins everything we do, whilst targeting efforts where they are most needed so that the heath of the poorest improves the fastest,  and so that 'Leeds will be a Mentally Healthy City for everyone'.

Summer Time Out Programme Report

This report reviews and evaluates Summer Time Out, a month-long virtual festival of learning and information focused on mental health and wellbeing at work for staff and volunteers in Third Sector organisations in Leeds.
The Leeds Suicide Audit is nationally recognised as best practice and is recommended by Public Health England. Details are available from the Leeds City Council website.

Suicide prevention: Guidance for frontline workers and volunteers.

This guidance is for anyone supporting people during the Covid-19 pandemic in Leeds to help them feel more confident to talk to someone about suicide. It has been produced by the Public Mental Health team (Leeds City Council) along with people from the Leeds Strategic Suicide Prevention Group.
Leeds in Mind 2017 (pdf)

The Leeds in Mind 2017 –  Mental Health Needs Assessment report assesses the mental health needs of the adult Leeds population, identifies where gaps in provision exist and makes recommendations to address inequity in access to healthcare and unequal health outcomes.