Rachel Cooper
Rachel is the Chief Executive Officer of Leeds Older People's Forum
Rachel joined LOPF in 2009, becoming Chief Executive in 2015. She has been involved in the Forum's key achievements, which include; advocating important member issues such as hospital discharge and housing; establishing a 130+ member strong alliance of Dementia Friendly organisations, and attracting 6m in funding to the city to tackle social isolation and loneliness.
Rachel is most proud of LOPF being an organization that truly puts older people at the heart of all of its work.
Rachel's scariest moment was leading a 60 strong flash (dance) mob of older people doing a hand jive to 'We Love to Boogie' by T-Rex in Leeds' Victoria Quarter to raise awareness of Age Friendly issues.
Lucy Graham
Lucy is the Volition Operations Manager
Lucy brings a variety of experience to the role of Operations Manager, having worked and volunteered in a range of health and care third sector organisations, both locally and in Northern Ireland where she was born and raised.
Her role involves supporting the operational delivery of Forum Central, including managing the PSI-Volition/Tenfold staff team, and working with member organisations and partners to build and maintain relationships, ensuring we continue our focus as a member-led service.
With a degree in Law and MSc in Psychology, Lucy feels strongly about human rights, equity and inclusion, and is passionate about using her role to influence for better mental health and wellbeing for everyone in Leeds, especially people facing inequality and disadvantage.
Outside of work, Lucy enjoys exploring Yorkshire's parks and countryside with her dog Bilbo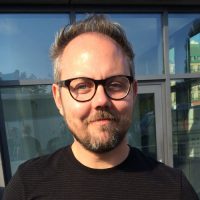 Jez Coram
Development Worker for Learning Disabilities
Jez is the Volition Development Worker for Learning Disabilities.
Jez joined Forum Central in September 2019. He has worked directly with people with learning disabilities for nine years in the third sector in Leeds, recently in project research and development, project co-ordination, and as a multi-media designer.
Over the years he has learnt a lot from the staff and volunteers with learning disabilities he has co-worked with. His role at Forum Central will be to build on the great work that has already been done and connect with member organisations, passing information between members and statutory services in a format members can understand, encouraging partnership working and helping to make sure people with learning disabilities voices, views and experiences are heard and are key to strategy and commissioning in the city.
Through his varied projects Jez has built a good understanding of the variety of discriminations faced by people with learning disabilities. He is happy to be a part of the forum central team and looking forward to learning from and working with the member organisations to help them engage with the Being Me strategy for Leeds and build on its inclusivity as a city.
When not at Forum Central Jez is usually, either with his family and dog, or watching Netflix.
Karen Fenton
Karen is the Volition Development Worker for Physical and Sensory Impairment and Mental Health 
Karen joined Forum Central in August 2019. She has a wide range of experience working in both statutory and third sector health organisations across the city for over 10 years in roles relating to involvement, community engagement, social marketing and membership within mental health, learning disability and cancer services.
Karens formal qualifications include a degree in Marketing and Events and an Msc in Health and Social Care Management. Many moons ago Karen also ran a successful children's party business and still enjoys a good Hokey Cokey.
Leeds born and bred, having moved around and settled back home, she is very passionate about the city, the people who live here and is enthusiastic to be part of the Forum Central team, playing a small part in contributing to addressing health inequalities and increasing wellbeing for all.
When not at work Karen enjoys spending as much time as possible outside exploring with her nearest and dearest.
Sean Tunnicliffe
Sean is the communications Officer at Forum Central (Leeds Older People's Forum and Volition)
His role includes communications, admin and office management for LOPF and Forum Central
He enjoys the wide variety of his role which covers things like designing reports and documents, organising meetings, putting together ebulletins, writing blogs, updating the Forum Central and LOPF websites and social media and making sure that the office never runs out of milk.
He has worked in the third sector since 2001 first with Volition and then LOPF and is the longest serving member of the Forum Central team.
Previous to this Sean had mainly worked in horticulture and also had a spell managing a newsagent shop.
Daisy Morgan
Daisy is the Volition Admin and Communications Worker
Daisy joined the Forum Central team in March 2020 having just returned from a year and a half of travel and living in Sydney. She misses the beaches but is happy to be back in her hometown of Leeds and to have taken up her first role working as part of the Third Sector.
She is supporting the team with admin duties and communications including maintaining the Forum Central website and developing the weekly newsletter.
Daisy has a degree in Psychology and spent four years working in pharmaceutical communications in London where she developed an interest in all things health related. When she's not at work, Daisy enjoys running, cooking and is happiest when she's in the sun!
Pip Goff
Pip is the Director of Volition and Third Sector and Community Local Care Partnerships (LCP) Lead
Pip's is the lead officer for PSI-Volition/Tenfold, and her role has a strategic focus, including supporting the third sector to influence the development of Local Care Partnerships, and supporting the delivery of the Harnessing the Power of Communities Programme, which aims to embed the third sector across all areas of activity through both inclusion and investment, in Leeds and at West Yorkshire and Harrogate level.
As Third Sector and Community LCP Lead, she works to ensure that the third sector is engaged at neighbourhood level, maximising the impact of voluntary, community, social enterprise and faith organisations Leeds. She is partly based in the citywide Community Local Care Partnerships Development Team, alongside colleagues providing support and resources to help the partnerships develop as well and as quickly as possible.
Pip brings to her role extensive experience of partnership working and third sector innovation; a good understanding of funding and how the sector can capture and articulate health outcomes and demonstrate social value; and a passion for addressing health inequalities.
A frequent cyclist and parkrunner, Pip would love to see improvements to Leeds's transport, green spaces and environment so that more people can live safer, healthier and more connected lives.
Karl Witty
Karl is the Development Worker - Local Care Partnerships (LCP)
His role supports the ongoing development of the Local Care Partnerships, promoting a strong and effective presence from the third sector across the 19 areas.
An active networker, Karl's time in role is split between supporting work within LCPs and working with the diverse third sector and statutory partners to enhance engagement.
Karl brings a broad range of skills and experiences to the role, amassed through 12 years working in Higher Education, and the past two years working in the VCSE.
As a father of two, Karl spends most of his spare time having fun in the park, playing football, riding bikes and messing about with Lego. When he's not doing this he enjoys listening to music and podcasts.