International Day of Older People (IDOP) is celebrated annually in Leeds on 01 October focusing on a different theme each year. The theme for 2021 was Linking Lives.
Leeds Older People's Forum opened a grant scheme to enable community groups to access funding to run an event or activity in celebration of older people across the city. The aim for the 'Linking Lives' theme was to bring people and communities together, raise awareness and celebrate the strength of the diversity of older people and communities across Leeds. Supporting the ambition for Leeds to be the Best City to Grow Old In.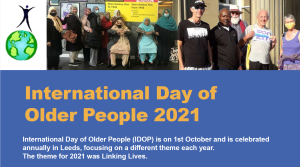 Each year IDOP promotes and celebrates the values of:
• a positive view of old age
• older people being enabled to lead active healthy and involved lives as citizens
• full participation of older people in the decisions and processes which affect their lives
• challenging the barriers faced by older people to independence, inclusion and equality
• older people being treated with respect and dignity at all times
This year, £3750 was awarded for community events which were attended by 438 older people. To read about some of the activities that took place, download the 2021 IDOP report here.
If you'd like to take part in the 2022 celebrations, or give any feedback about this report, email [email protected]