The HSJ award ceremony took place on Thursday 18 November and the Leeds Health and Care System was awarded "Highly Commended" for the Health and Local Government Partnership Award.
The award was for the #TeamLeeds person-centred Shielding Programme, which judges said was "a remarkable achievement that was a gold standard in supporting clinically vulnerable people to shield and has no doubt saved many lives" and recognised "the extent of personalisation that has gone into supporting local people through a highly tailored holistic response to meet different diverse needs".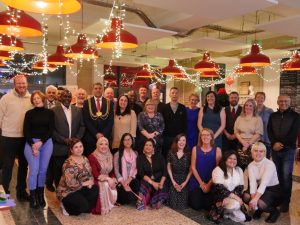 Leeds's citywide shielding programme brought together colleagues from health, care, local authority and the Third Sector behind a single compelling vision – and this mostly happened over Zoom. The award celebration party hosted at Gipton Old Fire Station was amazing opportunity to meet people and say 'thank you' in person for the invaluable work undertaken and dedication shown to supporting people who are clinically extremely vulnerable to stay safe, happy and healthy at home.