In December 2021, Forum Central, with our members and partners from Leeds City Council and across health and care, brought together Leeds For All 2021 to mark International Day of Disabled People
Groups and organisations from across Leeds' Third Sector produced a week-long programme of diverse events celebrating the achievements and resilience of disabled people and the Third Sector during Covid-19. This was a chance to connect, to have fun and to reflect.
The aim of these events was to provide highly inclusive and accessible content. Throughout the week people came together to reflect and celebrate on the challenges and opportunities that the pandemic has brought to disabled people in Leeds. Participants looked at ways we can continue to work together to improve things further.
The full event report is available in the following formats:
48 hours before the main event at Leeds City Museum, due to an increase in a prevalent Covid-19 strain in the city, the programme was switched to being a hybrid event, with live sessions streamed direct from Leeds City Museum to an audience online. Quite a challenge at short notice!
A film showing the visual highlights and feedback collected during the main event by Visual Artist Tom Bailey
BSL and Captioned Video Summary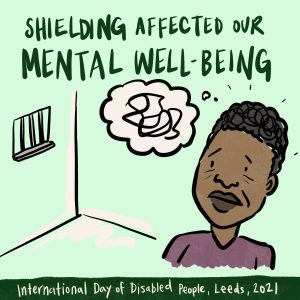 Achievements from the programme of events:
A sharing of the diverse experiences, strengths and challenges of disabled people in Leeds

A joyful celebration and showcasing of the value of Leeds' third sector organisations

Delivering live performances, exhibitions and presentations, and subsequent social media

Increased membership interest in Forum Central from small and voluntary led third sector organisations

Leeds City Museum has set up a group to improve inclusivity and accessibility on permanent exhibitions
What have we learned from the pandemic, both about the third sector and about the experience of disability in our city?
The enduring resilience and strength in diversity, both across the various communities of disabled people in Leeds, and within Third Sector organisations

The pandemic involved increased adversity for many disabled people and connecting and working together increases our power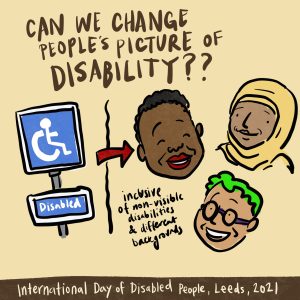 What next for Leeds' disabled people and the Third sector?
To work with partners in the Local Authority and Anchors to further raise the profile of the work of the third sector

Producing a calendar of key disability events throughout the year to improve collaboration, networking, communication, and better sharing of good practice

Plans for an even bigger event for December 2022 with physical and sensory impairment services each having a separate focus