We're delighted to announce that Men's Health Unlocked, the Leeds network supporting men's health, has been awarded over £300,000 by the National Lottery Reaching Communities Fund!
Men's Health Unlocked (MHU) is a partnership between Forum Central, Barca-Leeds, the Orion Partnership, Touchstone and Leeds City Council and has demonstrated a joined up approach to supporting men and boys across communities in Leeds.
The funding follows a successful first 12 months of the project, which has seen the network make impact at a local and national level. It has delivered 100 tablets to socially isolated and digitally excluded men across the city – half of which were men from ethnic minority backgrounds.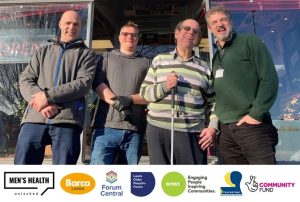 It has also set up a men's helpline and recruited "Manbassadors" in local shops, such as W2 Barbers on Easterly Road, who have regular chats with men to help point them towards activities and services.
MHU has also worked closely with other networks in Leeds such as Women's Lives Leeds, on a women's safety project, and with Mankind Initiative, to help address the nationally low uptake of domestic abuse victim services by men.
The network continues to connect support groups for men to work together on projects, as well as providing academic and professional support to those who are looking to support and promote men's health.
Joining together for Men's health
Men's Health Unlocked Coordinator, Damian Dawtry, said, "The continuation of this network is fantastic news for the city. It has come at a vital time as men, and men's health, need support. They are dying 3.5 years earlier than women, they are more likely to suffer from Covid and from most of the major illnesses that affect all genders. Sadly, as many of us are aware, men are more likely to feel that this life has nothing to offer them any more, and are taking their own lives at an alarming rate.
The network works alongside one of the world's leading authorities on men's health, Professor Alan White, as well as leading figures from the health and care sector.
Professor White said "Leeds has shown that by meeting the different health needs of men and women they can have a more efficient and effective service provision.  This benefits everyone. Currently, there is a push for a national men's health strategy and Leeds is a prime example of what can be achieved when the health of men is taken seriously."
Keep an eye on our website as the different elements of the network are launched over the next few months.
To find out more about Men's Health Unlocked, visit www.forumcentral.org.uk/mhu or contact Damian Dawtry at Forum Central on 07985 442630
Press: For a full press release, background information and images, click here.