November 2022 Cost of Living Crisis – Survey Summary and Update
With the Cost of Living Crisis impacts biting harder than ever, Forum Central is continually working with city partners to better coordinate our urgent response.
In November, Forum Central repeated a short Cost of Living short survey (previously done in Sept) to get an updated snapshot of the impact of the cost of living crisis on Leeds third sector health and care organisations. This has been conducted with a focused cross-section sample of member organisations. We did this so we can:
Understand and evidence the gravity of the situation
Have specific examples of the challenges facing organisations
Secure support for our infrastructure
Work with partners on better collective solutions.
We received 44 responses in one week in November from our members. The full summary results can be found here, including a series of direct quotes from respondents detailing the impact from their organisations perspective.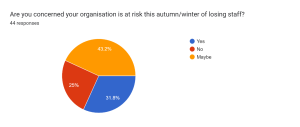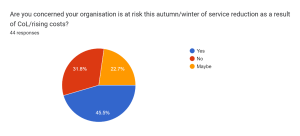 To summarise:
Reduced levels of service – Leaders in Third Sector health and care organisations expect to have to reduce levels of services through the autumn and winter, whilst also managing increased costs of staff salaries, transport, food, heating, and other utilities.
Concern about losing staff remains quite high – There are reports of employees leaving jobs for higher paid employment in other sectors or similar roles with the Local Authority, and a loss of volunteers, too.
Concerns over rising staffing costs – If we are to support and retain staff then wages must increase. Our respondents indicated that staffing costs have increased across the sector, linked for many to the recent pay award increase to  NJC scales, which rose by an average of 8% but with some variation across respondents. This could mean that the sector may need to find an additional £19.9m to fund this increase.
Some third sector organisations are considering their future alignment with NJC scales and the associated affordability . Organisations that are contemplating this need to consult their own employee handbook, terms of contracts and HR for specialist advice.
Increasing gap between costs and funding – This leaves a gap between rising costs and static contract funding, leaving many organisations worried about whether they may need to reduce services in order to balance the budget, both this year and next.
What is Forum Central doing?
Regular snapshot surveys to understand what third sector organisations are facing
Regularly engaging with Third Sector Leeds (TSL) and infrastructure partners to raise the collective voice of the third sector and inputting into regular TSL, sector wide position statements. The November position statement: Third Sector Leeds sector resilience and cost of living position statement – Doing Good Leeds
Managing collective expectations with commissioners about delivery, monitoring and returns on existing contracts, when funding has not increased.
Developing plans to refresh the state of the sector report in partnership with VAL in early 2023. See fill details of the 2020 report here
Regularly meeting, on your collective behalf with commissioners, One Workforce colleagues, Partnership Executive Group (PEG) and senior system leaders across various strategic spaces,  where we raise concerns, backed up with your relevant examples, about the risks and issues we are seeing the sector facing and where we ask for shared ownership of solutions.
Ongoing development of our website pages for Workforce and Cost of Living Support and regular liaison with LCC, NHS and VAL colleagues to ensure continuity, coordination and lack of duplication.
Other sources of support and advice