We are delighted to welcome Aire Place Studios, one of our latest members to join Volition and Forum Central.
Aire Place Studios is a not for profit creative space who work to provide access to art for all. They provide exhibition opportunities, low cost workspaces and community art projects. They focus on removing barriers to the arts for everyone by providing opportunities to those denied them.
Aire Place Studios is led by a board of directors who have lived experience of mental health, chronic illness and learning difficulties. They have come together to champion each other and those with similar experiences.
Over the past eighteen months, despite a year of lockdowns and changing rules, they were able to make connections with a wider audience with the help of their innovative community projects.
For more information about their work visit the following website and social media links:
About Forum Central membership
Forum Central is a member-led network. Our member organisations are vital to the work we do, and we believe in promoting our members' work as well as bringing people together, sharing information, and creating networking opportunities.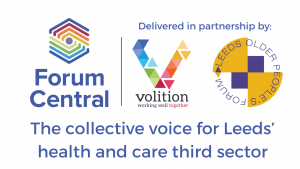 Forum Central is a partnership of two organisations, each a registered charity focussing on different specialisms:
If your organisation becomes a member of one the partner charities, then you will also become a member of Forum Central.
To find out more or to join us, email [email protected] or call 0113 242 1321.