We are delighted to welcome HOPE, one of our latest Volition and Forum Central members.
HOPE is a bereavement support service specialising in loss and grief, miscarriage, stillbirth, pregnancy and child loss. HOPE are also tackling Black, Asian and minority ethnic health inequalities and provide training.
Take a look at their latest newsletter to find out what services HOPE are running in the next few months and read about their first year as a Community Interest Company.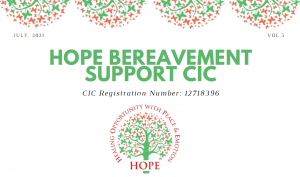 HOPE Bereavement Support CIC
For 1:1 counselling/coaching referrals email: Referrals@hopebereavementsupport.com 
Website: www.hopebereavementsupport.com/
Twitter: @BereavementHope