That's right, the Leeds For All International Day of Disabled People event is approaching fast – we hope you're as excited as we are. With only a week left to go, we wanted to update you with the latest announcements. Please support this event that we're hosting on behalf of our member organisations (with support from Leeds Disability Hub and the Leeds For All steering group) and help it reach as many people as possible by sharing it with your service users and people you work with.
Full programme now available
Get a summary of what's happening on the day in one document – the event programme: IDODP 2023 Programme Version 1 pdf
An easy read format and word document version for screen readers will be available soon.
Access Tour video of Leeds City Museum
We have made short video showing how to get around the museum using the lift or stairs to access the rooms, café, toilets, and areas where activities are happening on the day.
Watch the Access Tour video on YouTube https://youtu.be/sKzc6r6oIa8
Guest Speakers
As well as The Lord Mayor of Leeds and Councillor Kevin Ritchie, Disability Champion at Leeds City Council we will be joined by two extra special guest speakers:
Jodie Boyd-Ward: Leeds Rhinos Wheelchair Rugby Captain
Craig Grimes: Founder of Experience Community CIC
They will be telling their story and sharing their experience in disability sport.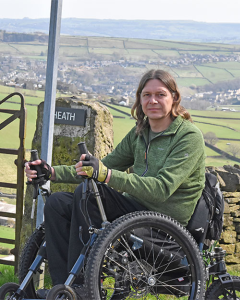 Inclusive Activities
On the day there will be inclusive and interactive activities happening which you can watch, listen to, or take part in to have a go! Carers, Personal Assistants and Support Workers are welcome to assist with any of these activities. In the Thoresby room there will be:
Yorkshire Dance – encouraging you to move musically in whatever way you can
Active Leeds, Yorkshire Cricket – join in with accessible pingpong and table cricket
The Feel Good Circus – a fantastic way to try out some accessible circus skills
The main room, Broderick Hall, will be full of stalls and there will be ways to get involved with activities from MindWell and Pyramid and Cartoonist Tom Bailey.
There will also be a quiet/sensory room open throughout the day for anyone to use when they are feeling overwhelmed or need a break. This is the Denny Room and it will have:
a black out tent with light up resources inside
a light up bubble tube, seated cushions around it
mirrored panels
bean bags
adult colouring
fidget toys
an electric fan
lowered lighting levels
Leeds Autism Services will support people in the room, and make sure the room stays a calming space.
Press Release and Media Coverage
A press release is being circulated and we are happy to speak on radio stations to promote the event. If you're in touch with anyone in the media who may be interested in covering the event please put us in touch. Email [email protected] or call us with any media enquiries.
For more information visit the IDODP 2023 event webpage.