The results from third edition of the West Yorkshire Third Sector Resilience survey have been launched.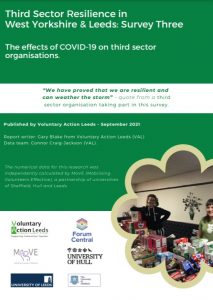 The survey sought to capture the impact of COVID-19 on the third sector looking at:
• Sector viability in the light of changing income and expenditure
• Pressures on communities and changes in volunteering
• The third sector's ability to adapt to changing circumstances and positive experiences.
Third Sector partners across West Yorkshire and Harrogate collected Resilience Survey data in June 2021 to follow up two previous Sector Resilience Surveys that were published June 2020 & December 2020.
This survey has highlighted the resilience and adaptability of the third sector, this is shown in the way it has adapted services, innovated and supported communities through very challenging times.
It has also highlighted some of the challenges the sector faces including loss of income, reduction of financial reserves, loss of volunteers and increases in demands for its services.
Click here to read the full report.