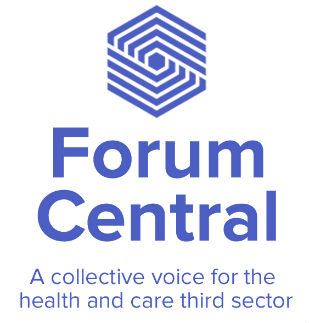 About
Forum Central is a collective voice for the health and care third sector. We work to make sure our sector is involved and has influence in the overall strategic planning for health and care in Leeds.
The Forum Central service is delivered by the partnership of:
Leeds Older People's Forum and

Volition-Leeds (the Mental Health, Physical and Sensory Impairment and Learning Disabilities Forum)
Together we have built on well-established working relationships with our key partners and we continue to develop new links and relationships with health and care partners across Leeds.
A focus of our health and care work is to showcase the activities of the third sector by:
Helping others understand the impact and breadth of the sector
Highlighting what the sector could contribute to new health and care landscapes
To spearhead this work we have developed a Health and Care Leaders Network. This is an ever growing network of passionate and influential third sector leaders in Leeds working around health and care.
Shaping Our Future – Third Sector Integration
Shaping Our Future is Leeds CCG's innovative programme developed in response to the national and local direction of travel towards integration and improved strategic commissioning for population outcomes. NHS England continues to drive forward an agenda of 'place-based' systems that focus on integration and strategic commissioning to population outcomes, shifting competition to collaboration and formalising the role of Integrated Care Systems.
Read about the Third Sector's role within this programme, Forum Central's proposals for further preparing organisations and alliances for integration with new health systems, and the development of an Integrated Care Partnership for Leeds.
A key role for Forum Central is to recruit and support its members to be representatives on various health and care strategic groups in the city.
Health and Wellbeing Board
This is the partnership board in the city that oversees the strategic vision and delivery of health and care in Leeds.
The third sector representative is: Alison Lowe, Chief Executive, Touchstone.
Community Providers Network
This Network is chaired by Thea Stein, the Chief Executive of Leeds Community Healthcare. The group brings together all the main community-based providers. They work together and develop new and potential ways of working, especially in light of the Five Year Forward View.
There are two third sector representatives
Workforce development
There are a number of groups in the city looking at what an effective health and care workforce of the future needs to look like. Part of their work is to look at:
How we support people to "work with" people in a different way
How we address shortfalls in being able to recruit to roles
We have recruited these third sector representatives to the groups:
Tina Turnbull, CEO, People Matters
Andy Rawnsley, CEO, Aspire
Jane Li, CEO, Home-Start Leeds
Andrew McDermott, Service Development Manager, Leeds CIL
Data & Digital
Data and Digital are described as two of the big ways that health and care systems can work more effectively together, as well as work in a different way with people. Forum Central is influencing this area from a health and care third sector perspective.
Third Sector Reps
NHS Long-Term Plan
The NHS Long Term Plan was developed in partnership with those who know the NHS best – frontline health and care staff, patients and their families and other experts
Advonet provides and supports advocacy in Leeds. Their ambition is to ensure everyone gets their needs heard and rights respected.
Leeds Autism AIM is a free service for autistic adults in Leeds.

Doing Good Leeds is the website for the third sector in Leeds managed by Voluntary Action Leeds.
Healthwatch Leeds helps people get the best out of their local health and care services by bringing their voice to those who plan and deliver services in Leeds.