This is the second edition of the Transformation Update which includes brief information about progress made towards delivering transformed community mental health care in Leeds.
Key excerpt from the Progress Update:
Although initially planned to go live from October, a decision was made at the partnership Transformation Board on Wednesday 13 September, to postpone this with a new provisional date of mid November. This is to allow time for some details to be worked around governance and the new ways of working across partners. It's important we get this right and take the time to make sure the right things are in place. This will be confirmed when the Board meets again in mid October, and a communications update will follow.
Read the Transformation Update September 2023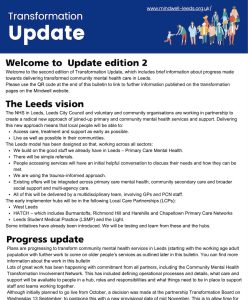 For more information about any of the items published in this newsletter, email [email protected]
Transforming Community Mental Health Services information is now on the MindWell website
You can now signpost to and visit MindWell for information about Transforming Community Mental Health Services. Information is broken down into the following sections:
The case for change in Leeds
Building our vision for Leeds
Partners building the Leeds vision
Partners and stakeholders
Governance – monitoring progress and delivery
Resources
Frequently asked questions
Three short, animated videos have been produced to explain how transformation will improve community mental health care in Leeds. The videos set out the key messages for general audiences, service users and carers and colleagues. Each around three minutes long and can be found in the Resources section.